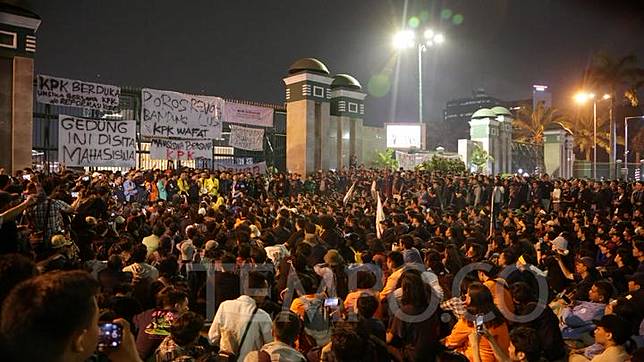 TEMPO.CO, Jakarta - Students from universities around the Greater Jakarta Area and Bandung plans to hold another protest at the House of Representatives (DPR) headquarters following the rally on Thursday last week, that did not spark the expected reaction from legislators.
University of Indonesia's Head of students' executive board Manik Marganamahendra, said that another protest will take place within the next couple of days in order to keep legislators in check and prevent the DPR from passing a number of alarming Laws in the September 24 plenary meeting.
"We will consolidate it again. We will keep the DPR in check," said Manik in front of the Senayan Parliamentary complex in Central Jakarta on Thursday, September 19, 2019.
The laws considered to be problematic by the students include the Bill on Land Issues, Employment Bill, Mineral and Coal Bill, and the most focused-on, the revision of Criminal Code revision. The students' views were expressed to House secretariat general Indra Iskandar on Thursday's rally.
In the meeting with the DPR representative, four deals were met with one of it being that the four demands will be notified to House members.
As of the revised KPK Law that had been passed by the House, Manik says that students will prepare a litigation step and massively voice their motion of no confidence toward the DPR in social platforms and in the field.
"What's certain is that the next protest will see many more students participating," said Manik.
ADAM PRIREZA