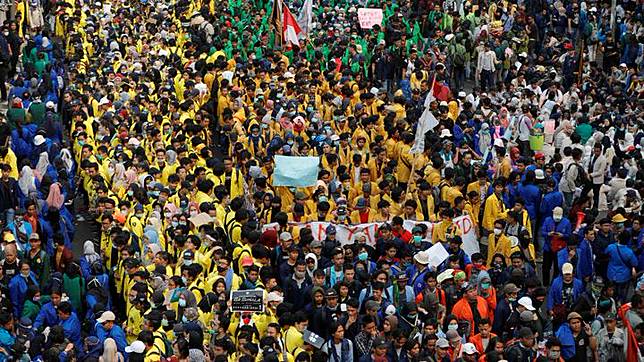 TEMPO.CO, Jakarta - The National Association of University Students' Executive Bodies (BEM-SI) announced it will yet again take to the streets on Thursday, October 17, at the Presidential State Palace.
"Yes, the protest will be held," said BEM SI media coordinator Ghozi Basyir on Wednesday, October 16.
According to Ghozi, roughly around 2,000 university students in alliance with the BEM SI in the Greater Jakarta Area and Banten will be present.
The demands of the students remain the same; urging President Joko "Jokowi" Widodo to issue a regulation in lieu of law (Perpu) of the recently-passed Corruption Eradication Commission law (KPK Law).
Students have expressed worries about the implications of the new KPK Law, which will be effective on October 17, 2019, as it is widely considered as a tool to weaken KPK's authority after it was hastily passed by the House of Representatives (DPR).
However, the students will face a pressing issue hampering their street protest as the Metro Jaya Police Chief, Senior Commissioner Argo Yuwono announced a ban on any form of public protest from October 15 to October 20 in respect of Jokowi's upcoming presidential inauguration ceremony.
M YUSUF MANURUNG