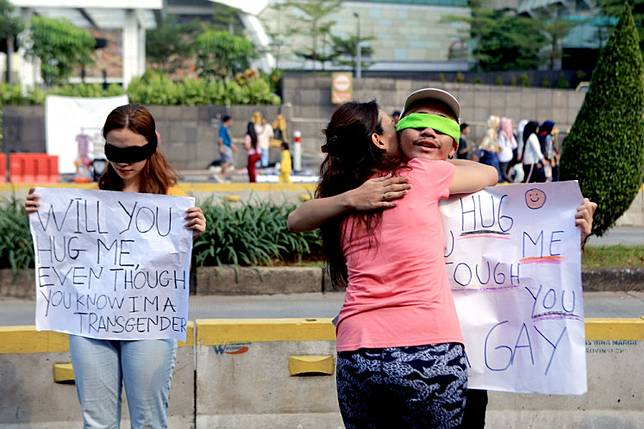 When we hear of state persecution of minority communities in faraway lands, we feel empathy. They are unfortunate, we believe, to live in lands with much less freedom than our own. But for those in Indonesia's lesbian, gay, bisexual and transgender (LGBT) community, formal discrimination is a step away from daily experience.
On Tuesday, we reported that those labeled "deviant" would be marginalized in the upcoming civil servant recruitment process. The Trade Ministry has stated that it will not consider applicants that exhibit "deviations" in sexual orientation or behavior, while the Attorney General's Office states on its website that applicants "must not be mentally disabled, including sexual orientation deviations and behavioral deviations".
Given prior indications this is not surprising, though it is distressing nonetheless. It is further confirmation that President Joko "Jokowi" Widodo, first elected in 2014 on a campaign pledge to protect human rights, seems to have forgotten his promise; and that members of Indonesia's LGBT community are not considered equal citizens. In 1987, 32 years ago, the country's Diagnostic Classification on Mental Disorder Guidelines III stated that homosexuality was not a mental illness. This was before the World Health Organization had homosexuality removed from this category.
In 2016, the then-research, technology and higher education minister stated that homosexuals should not publicly express affection on university campuses. The Indonesian Psychiatrists Association (PDSKJI) also claimed that "deviant" sexual tendencies were largely triggered by external factors, such as the influences of a person's social environment; therefore, they could be "healed" through psychiatric treatment. Today, the government is furthering the rampant bigotry and abuse against sexual and gender minorities. The National Commission on Human Rights (Komnas HAM) has reminded the government that barring members of the LGBT community from civil servant recruitment is a violation of the Constitution.
Even though we are past 2019's divisive elections, Jokowi appears to still be looking to shore up public support for some of his more controversial policies — such as curbing radicalism, which makes some conservative Muslims anxious. What better way to ensure support for such policies than by naming common enemies — those "queers", to go with the drug addicts and "communists".
Last Thursday, a Medan court ruled in favor of the rector of the University of North Sumatra (USU). The plaintiffs were students fired from the editorial board of student website suarausu.co for publishing a short story about a lesbian woman's unrequited love, which was labeled pornographic and LGBT content. Students protested the perceived censorship, which they saw as inimical to their rightful expectations in a democratic nation.
Those who claim to be nationalists should not accept the intimidation, arrests, extortion, rape, raids and other examples of mistreatment faced by fellow Indonesians simply because of their sexual orientation. Nor can we simply blame such discriminative policies on the ministries. As President Jokowi has said, ministers do not possess their own vision, they are tasked with carrying out the President's vision.