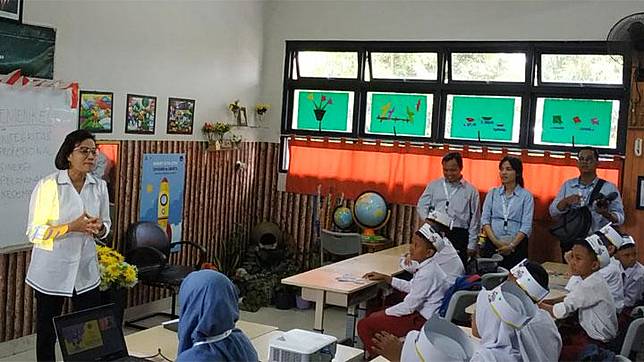 TEMPO.CO, Jakarta - Finance Minister Sri Mulyani Indrawati said she was expecting multiple breakthroughs represented by Education and Culture Minister Nadiem Makarim in creating more qualified human resources.
Sri said that Nadiem could achieve a breakthrough by managing educational funds to be more effective so that every region has the same and equal quality of education service.
"Perhaps, we can see his initiatives in effectuating educational spendings that mostly in the form of non-physical DAK (special allocation funds) as the school operational assistance (BOS)," said the minister at Tax Directorate General office, Jakarta, Thursday, November 14.
The non-physical DAK is the government assistance for regions to finance educational activities related to health and tourism, or other than the physical development, such as building construction.
The former managing director of World Bank suggested Nadiem Makarim communicate and disseminate the management of the non-physical DAK to regional administrations in a bid to improve the education quality.
Minister Sri stressed that good financial management would result in highly competitive human resources. Through this, Indonesia could reach its goal as a developed country due to the performance and achievement of the people.
"Don't forget, Indonesia can move onward as long as the people have good education, knowledge, skills, and work ethic," she remarked.
According to Sri Mulyani, the non-physical DAK in 2020 was earmarked at Rp130.3 trillion, up from last year's Rp4.60 trillion, while the next year's physical DAK budget was set at Rp72.2 trillion, increased by 10 percent from the 2019 budget.
ANTARA