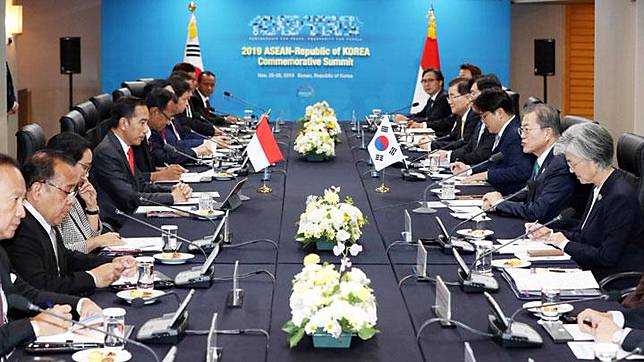 TEMPO.CO, Jakarta - South Korea has agreed to extend US$50 million to help Indonesia realize the fourth industrial revolution known as Industry 4.0 through synergy between the Indonesian Industry Ministry and the South Korean National Research Council (NRC).
"We have discussed the implementation of cooperation programs (with NRC) starting 2020. They will provide US$50 million in assistance to Indonesia to realize Industry 4.0 ," Director General of Metal, Machinery, Transportation Means and Electronics Industry of the Industry Ministry Harjanto said in a written statement released on Saturday.
The collaboration between the two sides will last for five years to improve Indonesia's capability in the five sectors of manufacturing industry which become a priority in the roadmap Making Indonesia 4.0, he said during the 1st Sub Joint Committee Meeting between the Industry Ministry and NRC,
The five sectors are food and beverage industry, textile and garment industry, automotive industry, chemical industry, and electronic industry.
"The 1st Sub-Joint Committee Meeting held in Bali is aimed at reminding us of (the commitment) to implement the cooperation initiative set forth in the MoU (Memorandum of Understanding) between the Industry Ministry and NRC by discussing the concept of cooperation, approaches and projects that can be implemented next year." he said.
The Industry Ministry and NRC signed the MoU on September 10, 2018. To implement the MoU, both sides have agreed to sign an agreement on technical framework for working level tasked with identifying and deciding priority cooperation programs.
"The cooperation includes joint research, policy support to specific entities, exchange of skilled staffers and workers , expansion of networking among experts and professionals, and capacity building for the government and business world," he said.
Harjanto said the follow up meeting brought about several prospective activities that the Industry Ministry and NRC will implement in 2020 through joint research related to the five sectors
"After all, joint research still makes it possible (for the two sides) to discuss other topics including the restructuring of Global Value Chain (GVC), National Digital Infrastructure Development, and Smart City," he said.
Both sides have agreed to implement the capacity building program and the 2nd Sub-Joint Committee in February 2020.
Meanwhile, NRC Secretary General Hong Keun Gi said Indonesia has the potential to develop the industrial sector thanks to its huge population of 260 million.
He said the Indonesian government has clear commitment and policy to realize Industry 4.0 by launching the roadmap Making Indonesia 4.0.
ANTARA