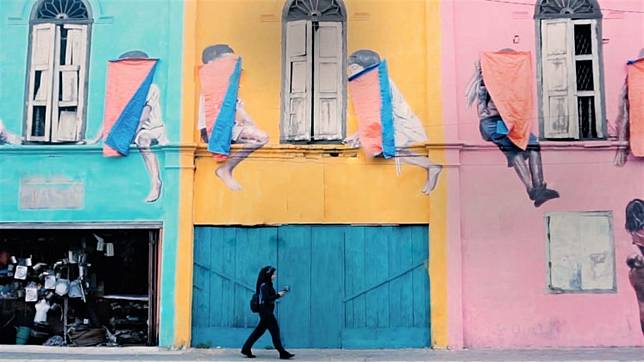 Using sounds and acoustics as the basis for their urban reimaginations, artists and musicians explore their sonic environment to propose a unique way to reconnect with cities and spaces at the time of the pandemic, which has forced people all over the world into isolation.
The explorations were conducted as part of Sound of X, an international digital project initiated by Goethe-Institut that showcases video soundscapes.
For the project, artists and musicians from cities across Southeast Asia, Australia and New Zealand examine the ignored soundtrack of a city and how the musicality of everyday life reveals its characteristic social fabric.
"People who grew up in different cities have sounds that act as a background [soundtrack] to our daily activities; the sounds that end up being dear to us," said sound engineer Rani Fitriana Jambak, one of the creators of a video highlighting Medan, North Sumatra, for the project.
"I grew up listening to sounds of horns coming from bread vendors while in Auckland's video, [we see that] the creators grew up listening to the sound of the wind."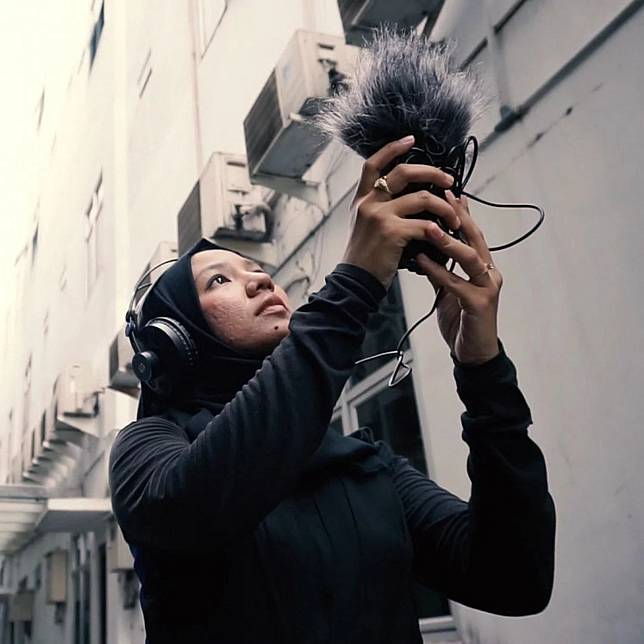 In motion: Indonesian sound engineer Rani Fitriana Jambak records sounds from a neighborhood in Medan, North Sumatra, for Goethe-Institut's Sound of X digital project. (Courtesy of Benny Suhendra Panjaitan/-)
For the project, Rani, filmmaker Evi Ovtiana and producer Matthias Jochmann created a video soundscape of Medan, Indonesia's third-biggest city and is diverse in ethnicities, cultures and religions.
It took them two to three months to create the video, titled "Nostalgic Contrasts".
"The unique quality of Medan is found in the contrasts here: big villas next to simple, wooden huts; mosques next to churches, next to temples; clean and dirty; noisy and peaceful; poor and rich; Asian and globalized; modern and undeveloped," Jochmann said in the video's description.
The four-and-a-half-minute video features immersive daily noises, from a train's honking and crackling sound of a sewing machine to the clinking noise of a teaspoon hitting the inside of a cup as it stirs coffee.
These sounds are accompanied by a visual of the different parts of Medan, from the hustle and bustle under the tall buildings, the busy shopping centers and streets to dirty alleys and dumpsters.
Evi said they wanted to capture the contrast between the traditional and the modern, like traditional coffee houses amid modern tall buildings or traditional music in the middle of a busy modern market.
"We tried to present the real Medan. There are a lot of contrasts that we see [in the city]. Usually people see the positive sides only. In this project, we have the contrasts, the positive and negative sides, so people will not only see the good sides of Medan. We present everything in this project," Evi said.
"Medan is an urban mix of traditional culture and modern, and it's cool."
Not all of the cities in the Sound of X project, videos of which can be accessed for free at goethe.de/soundofx and Goethe-Institut's social media channels, are urban metropolitans.
Singapore's artistic duo NADA joined forces with media artist Brandon Tay in exploring nature as a place of longing in the highly urbanized city-state. In search of the legendary Monkey Man in the Bukit Timah Nature Reserve, they used sounds and images to convey Singaporeans' ambivalent relationship to nature.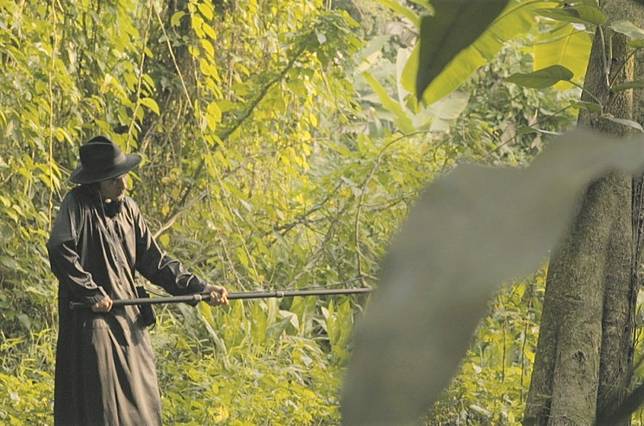 Sound of nature: Artist Brandon Tay records the sounds of rustling leaves in Singapore for Goethe-Institut's Sound of X project. (Courtesy of Taufik Jafaar/-)
In Malaysia, artist duo Another Universe's filmic and photographic exploration of Kuala Lumpur takes viewers through parts of the city that are often overlooked.
"Most people are not aware that everything started in this old section of Kuala Lumpur, which is still important for trade today," they explain in a statement. "A lot of migrant workers still live here, which hints at how this city actually got started: with people who came from somewhere else looking for a better life."
The uncommon perspective revealed in the video soundscapes by the participating artists and musicians is in contrast with those found with the space of tourism and marketing on social media.
"Digital culture and social media have brought a shift toward the visual. Often, we are unable to relate to what is shown. At a time in which screen culture is becoming increasingly desensitizing, the artists of Sound of X present alternative approaches to visual and acoustic perception," said Han-Song Hiltmann, project lead of Sound of X and head of Goethe-Institut Singapore.
"In the context of our urban environment, sounds can emerge from the ambient noise that, although invisible, holds many things together; the musicality of everyday life and the often-ignored soundtrack of a city reveals or reflects its characteristic social fabric."
Rani said that as a sound designer, her goal was to present these contrasts with a lively yet nostalgic sound.
"The sound of the bread vendor is very nostalgic to me and I want to present that sound in a dominant way in the video," she said.
"The video from New Zealand made me realize that other artists also present sounds that have some sort of emotional value to them and I think it gives us pride just to be able to show ours to everyone else." (ste)
-- The writer is an intern at The Jakarta Post.