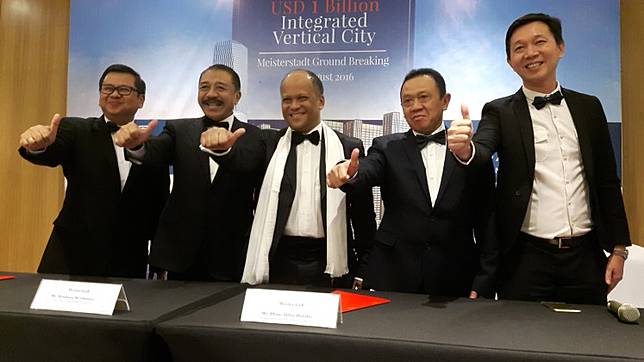 The ongoing construction of residential towers in the integrated megablock Meisterstadt – also known as Pollux Habibie – in Batam, Riau Islands, has hit a snag as the operator of Hang Nadim International Airport has demanded that the towers have fewer floors to avoid disruption to air traffic.
According to Batam administration rules on building permits, a skyscraper must be no more than 80 stories high. However, representatives of Pollux Habibie International previously stated that they would lobby the administration to allow the construction of 100-story towers.
Hang Nadim International Airport director Suwarso said he had recommended that the height of the residential towers, which have been touted as major skyscrapers upon completion, be limited, since the proposed height exceeded what was allowed according to the terms of safe flight operations area (KKOP).
"Yes [the height has to be limited]. We suggested a recommended height to Region II Airport Authority in Medan, North Sumatra, so that [the towers] won't exceed what's permitted according to KKOP terms," Suwarso told The Jakarta Post on Monday.
The development of the Meisterstadt complex, which will occupy a 9-hectare plot of land, kicked off in August 2016 with a total investment of US$1 billion. The initial phase of the development was marked with a groundbreaking by Pollux Habibie International commissioner Ilham Akbar Habibie, the eldest son of late president BJ Habibie.
"The Meisterstadt towers are expected to surpass even the tallest buildings in Singapore. The towers will be visible from Singapore. We hope the height permit won't be an issue," Ilham told the Post.
The Habibie estate owns 49 percent of the Meisterstadt megablock, whereas PT Pollux Properti Indonesia owns 51 percent.
Envisioned as an integrated vertical city, the Meisterstadt will be home to 11 towers comprising eight residential towers, one office tower, one hotel tower and one hospital tower.
The late BJ Habibie was no stranger to Batam, having been the head honcho of then-Batam Industrial Development Authority (BIDA) from 1978 to 1998.
Meisterstadt general manager Richie Laseduw was unavailable for comment.
Pollux Properti Indonesia completed the first phase of the Meisterstadt project in August. At the time of writing, construction of the towers had reached 70 percent completion. (rfa)