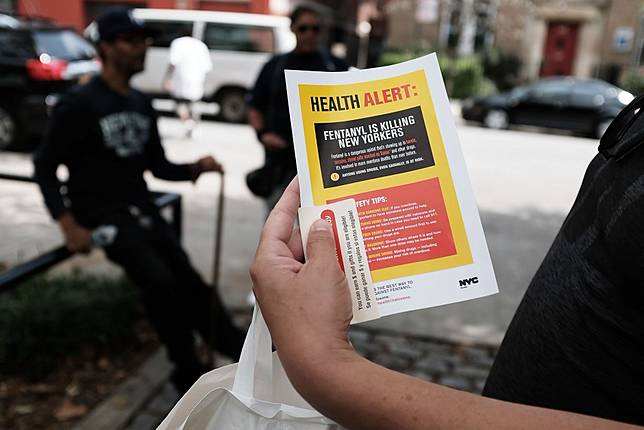 United States President Donald Trump's "maximum pressure" trade war tactics against China have taken some unlikely twists. One has been to blame the nation for America's opioid crisis, which is claiming tens of thousands of lives each year. But using the highly addictive synthetic painkiller fentanyl as an excuse to impose tariffs and sanctions avoids the root of the problem. Instead of accusations, he should instead be seeking solutions and they mostly lie at home, not abroad.
The Trump administration last month imposed sanctions on three suspected Chinese fentanyl producers and traffickers blamed for being behind an international operation. Hundreds of packages were claimed to have been sold online and shipped using commercial mail carriers. Days later, 30kg of the drug claimed to have come from China and capable of killing 14 million people was seized in the US state of Virginia; one of the 39 people charged was said to have received it from Shanghai.
Trump last month accused China of failing to live up to promises to curb flows of the drug, one reason for escalating the trade war and threatening new tariffs. Beijing imposed stricter controls on fentanyl on May 1, although not the chemicals used to make it. The huge potential profits in the US incentivise illegal production, either in China or by shipping chemicals to a third country for production. But while targeting trafficking is one way of tackling the problem, it is only a small part. The focus should be on fighting addiction through a strategy to reduce and quell the heavy demand in the US for fentanyl and other opioid painkillers.
Fentanyl is used to treat severe pain, usually that of patients with terminal cancer. But it is also highly addictive. Too much causes a euphoric high, giving it appeal as an illicit drug; it is even stronger than the notorious narcotic, heroin. Although blamed for more than 28,400 overdose deaths in the US in 2017, it is only one of numerous painkillers, prescription ones among them, behind the country's opioid crisis. Such addiction is not Beijing's fault. To blame are pharmaceutical companies that have aggressive marketing campaigns or make false claims, doctors who too easily give in to patients' demands or overprescribe, and a medical system that has questionable guidelines on pain management.
An Oklahoma judge's ruling holds hope; Johnson & Johnson, which sells prescription opioids and provides ingredients for other drug companies, was last month fined US$572 million for deceptive marketing and contributing to the state's crisis. US drug maker Purdue Pharma, struggling to deal with thousands of opioid-related lawsuits, last week also filed for bankruptcy protection. At home is where Trump needs to be putting his energies, not blaming China.
Copyright (c) 2019. South China Morning Post Publishers Ltd. All rights reserved.