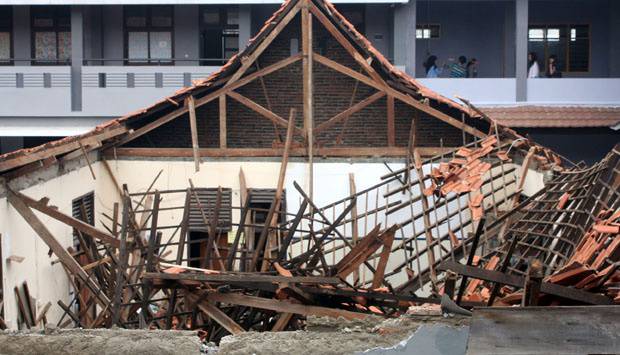 TEMPO.CO, Tangerang -Tangerang Disaster Mitigation Agency (BPBD) announced that a puting beliung or small tornado destroyed over 23 buildings in several areas for the last three days.
"We have just noted 23 buildings, [the number] may increase," the agency head Agus Suryana told Tempo, Thursday, November 14.
Agus reiterated that the extreme weather, strong winds, heavy rains, and lightning, commenced during the transition from dry to the rainy season. This condition triggered windstorms in several points across Tangerang Regency. "But it is detected on a low scale of II," he added.
Based on the agency data, strong winds occurred since Tuesday, November 14 in sub-districts of Jambe, Kresek, Legok, and Tigaraksa. "Some of the buildings are heavily damaged," Agus said.
He also mentioned many school buildings were also destroyed. "But the damages are minor, such as the ceiling fell off and a few roof tiles flew."
As for residential houses severely damaged by puting beliung, Agus went on, most of them were semi-permanent buildings. "After we record the data, the government will deliver help and compensation," Agus concluded.
JONIANSYAH