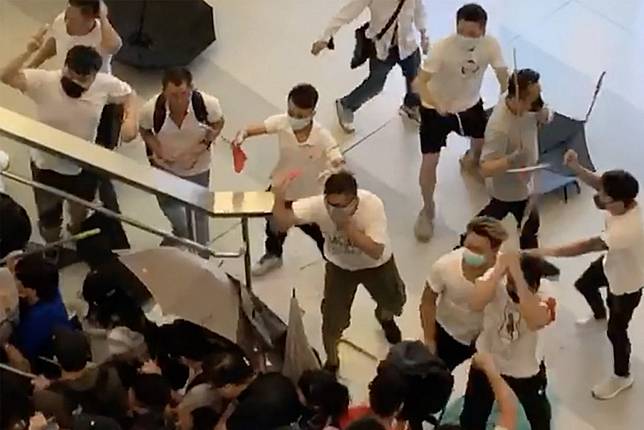 A sixth man linked to an attack on protesters and passengers at Hong Kong's Yuen Long MTR station has surrendered himself to police nearly two months after the incident, a court heard on Wednesday.
Truck driver Ng Wai-nam, 57, was taken to Fanling Court in a wheelchair to face a rioting charge.
His lawyer, Stephen Ma Tsz-on, told the court Ng had heart problems and required regular medication.
Ng allegedly took part in the attack with about 30 others at the station, which broke out overnight between July 21 and 22 and targeted black-clad protesters returning from an earlier demonstration in another part of the city.
He was picked out by a prosecution witness at an identification parade and, upon consulting legal advice, surrendered to Tai Po police station on Tuesday.
He was not required to make plea at his first hearing, as police needed further time for enquiries.
Acting principal magistrate Don So Man-lung granted Ng HK$50,000 cash bail, but forbade him from entering Yuen Long station. He also ordered him to obey a curfew and report to police twice a week.
Ng will return to court on October 25 alongside five other alleged assailants.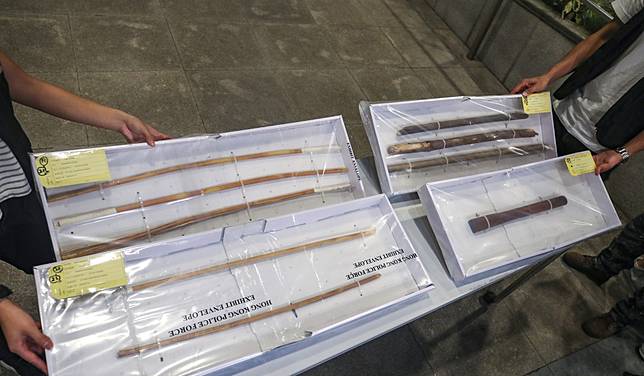 He was the sixth of 32 suspects arrested to face a rioting charge in relation to the attack, in which at least 50 people were injured by a group of white-clad men wielding wooden rods, iron pipes and rattans.
Among those charged, three other men have been given bail at up to HK$100,000 cash.
The rampage triggered a violent siege of a branch office belonging to pro-Beijing lawmaker Junius Ho Kwan-yiu on July 22.
Rural leader Ho was filmed shaking hands with the men in white tops and thanking them. He distanced himself from the assault at the time and it was unclear what he was thanking them for.
Anson Chu Pui-hang faced one count of criminal damage at Sha Tin Court on Wednesday over the attack on Ho's office, accused of breaking a glass door.
But the 18-year-old student did not show up at court after reporting chest pain. Acting principal magistrate Ko Wai-hung adjourned his case to September 20.
Meanwhile, two people who allegedly affixed protest-related posters on government property have been sued for breaking municipal laws - the first time protesters were served with a summons since the anti-government movement broke out in June.
The duo, Ho Chi-ching and Kwok Hiu-nam were accused of sticking three posters on a government-owned railing on Tsing Tsuen Road in Tsing Yi on August 5 - the day when a citywide strike brought the city to a halt.
Their respective age and occupation were not revealed in the summons.
They will return to West Kowloon Court on October 16 after seeking legal advice. They face a fine of up to HK$10,000 if convicted.
Copyright (c) 2019. South China Morning Post Publishers Ltd. All rights reserved.