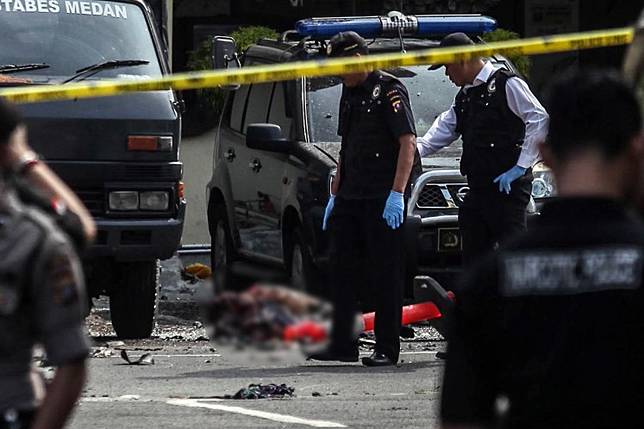 At least six people have been injured in an apparent suicide bombing on Wednesday at Medan Police headquarters in Medan, North Sumatra, the National Police announced.
National Police spokesperson Brig. Gen. Dedi Prasetyo said that four police officers, one non-permanent staffer and one civilian were injured in the incident.
Dedi added that the bombing attack also damaged four cars, including three police cars.
The apparent suicide bombing occurred at around 8:45 a.m. on Wednesday, after the morning roll call.
Another National Police spokesperson, Insp. Gen. M. Iqbal, said that the perpetrator reportedly walked through the location of the roll call and then detonated the explosive near the police station's operations center in an apparent suicide bombing.
"There are a total of six victims […]. Thanks be to God, the reports so far say that none of the victims suffered severe injuries, but they are wounded," Iqbal said.
He added that the perpetrator was reportedly killed in the blast.
Officers from the National Police's Densus 88 counterterrorism squad, the North Sumatra Police's Indonesia Automatic Fingerprint Identification System (Inafis) unit and forensics units are investigating the crime scene.
Dedi said that the investigation would determine whether the bomb contained low or high explosives, and that Inafis officers would attempt to identify the perpetrator through fingerprint analysis.
The police would also check if the perpetrator had any connections to Jamaah Ansharut Daulah (JAD) – a local terror group with links to Islamic State – or if they were acting alone, he said. (afr)