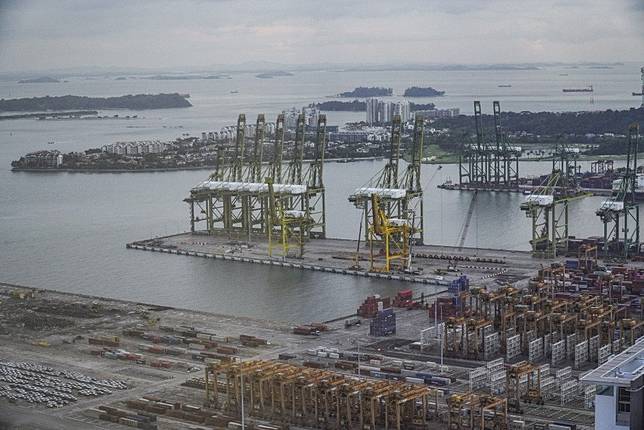 Singapore's trade woes continued in October, with exports falling for the eighth month in a row and imports also continuing to decline.
Non-oil exports fell by 12.3 per cent in October from a year earlier, after an 8.1 per cent decline in September. Imports fell 10.3 per cent, after a 4.8 per cent fall in September. Combined, total trade volume fell by 9.7 per cent, much worse than September's 5.0 per cent reading.
The city state is particularly exposed to vulnerabilities in global trade, due to the fact that its export to gross domestic product (GDP) ratio is higher than any other country with the exception of Luxembourg. It is no surprise, then, to see that Singapore's trade with China has been nosediving at a time when the Chinese economy has been in a prolonged downturn.
Singapore's non-oil exports to China fell by 5.5 per cent last month, while in the crucial electronics sector, exports were down 21.3 per cent. As global trade continues to lag and demand weakens among many important consumer markets, Singapore stands to suffer further, with analysts across the board negative about its economic outlook.
A trade bellwether, Singapore is always going to feel the trade war heat first but is also positioned to recover much faster as a resultJeffrey Halley
October's data was far worse than analysts had expected. Consensus forecasts had been for a 10.4 per cent drop in exports, continuing a run in which the economy has often been worse than experts expected.
Singapore's economic growth for the third quarter will be announced later this week, with analysts expecting growth of just 0.1 per cent. However, a second quarter slump of 2.7 per cent was predicted by few.
"A trade bellwether, Singapore is always going to feel the trade war heat first but is also positioned to recover much faster as a result. Domestic consumption is another story altogether. There are only so many shopping malls you can put on one island filled with identical shops, that you can ask the man on the street to spend all his or her money at," said Jeffrey Halley, senior Asia analyst at Oanda, a foreign exchange firm.
Monday's numbers, released by Enterprise Singapore, the country's trade promotion body, showed that with the exception of Taiwan, exports to its top 10 markets fell, with Japanese exports falling 39.5 per cent, European Union down 13.2 per cent and the US 10.5 per cent.
This suggests that demand is struggling across the world, partly a result of the US-China trade war and the uncertainty that has brought to markets, partly down to cyclical slowdowns in electronics, particularly the semiconductor industry, in which Singapore is heavily reliant.
The latest world trade monitor from the respected CPB Netherlands Bureau for Economic Policy Analysis, showed that world trade volume grew by just 0.5 per cent in August, after 1.4 per cent growth in July. In August, world industrial production was flatlining at 0.0 per cent growth, while the momentum for both trade and industry were trending in negative, suggesting worse times lie ahead.
Also released on Monday, Thailand's economy grew by 2.4 per cent in the third quarter of the year, the second weakest quarterly growth in five years and below analysts' expectations.
Like Singapore, Thailand is suffering from weak global demand. "GDP growth in Thailand only managed to nudge up in Q3, and with global growth set to drag on exports we expect the economy to remain sluggish in the quarters ahead," said Gareth Leather, senior Asia economist at Capital Economics.
Copyright (c) 2019. South China Morning Post Publishers Ltd. All rights reserved.