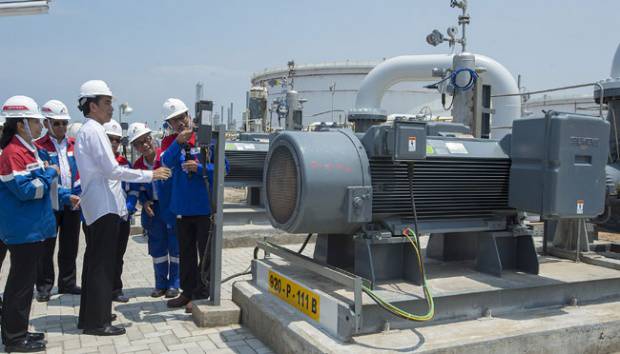 TEMPO.CO, Jakarta - The move by the government to push Pertamina to acquire Trans-Pacific Petrochemical Indotama (TPPI) deserves appreciation. This desire was realized after the state company became the majority shareholder of Tuban Petrochemical Industries, which owns the plant located in Tuban, East Java.
President Jokowi's new cabinet moved quickly. Its action was based on government regulation on the increase of state equity participation in Tuban Petro that was issued in September. After the finance ministry converted its loan to Tuban Petro into state equity participation, the government, through Tuban Petro, issued 190,000 new shares, which were bought up by Pertamina for Rp3 trillion at the end of November. It was like money leaving from the left pocket and going into the right pocket. This maneuver led to Pertamina taking a 51 percent shareholding in Tuban Petro, which controls TPPI.
Petrochemicals is an upstream sector that supplies raw materials for almost every downstream sector, from plastics, textiles and paints to cosmetics and pharmaceuticals. The government needs to revive TPPI, whose business activities were suspended, because of the high demand for petrochemicals. For example, the consumption of polyethylene is now 1,000,000 tons per year. The demand for this raw material for plastic bottles cannot be met even though Chandra Asri Petrochemical, one of the largest petrochemical producers, has increased its production to 700,000 tons.
At present, domestic production can only meet 40 percent of the national demand for petrochemicals. The remainder is imported. It is hoped that the optimum operation of TPPI, together with two other plans under Tuban Petro, Polytama Propindo and Petro Oxo Nusantara, could fulfill up to 80 percent of domestic demand.
Overall, refineries in Tuban are capable of producing up to 100,000 barrels of gasoline per day, as well as 927,000 tons per year of aromatic products and 1.06 million tons of light naphtha per year.
It is calculated that if TPPI was in full operation, imports of main petrochemical products would fall by 6,200 tons per year in 2030. This would reduce the current account deficit and it is estimated would save up to US$6.6 billion of foreign currency. This nation would also benefit from potential projected tax revenues of around US$1.3 billion and the creation of 2,000 new jobs.
But things could turn out differently. TPPI's finances have been in chaos for years. The reluctance of foreign investors to finance it is an indicator that Pertamina must take note of.
Now, major investments will be needed. After spending Rp3 trillion, Pertamina still needs to build an olefin complex, which will cost billions of US dollars, so it can produce aromatics. As well as facing domestic rivals such as Chandra Asri and Lotte Chemical, TPPI will have to face regional competitors. In Johor, Malaysia, Saudi Aramco, and Petronas are building a giant petrochemical plant which will have a capacity of 3.3 million tons per year.
Another factor is Honggo Wendratno, the founder of TPPI, who is wanted for corruption in a case involving the sale of Pertamina condensate. Although his shareholding is only around 1 percent, it could be a thorn in the side of TPPI. The police have called the crime, which cost the state Rp35 billion, one of the largest corruption cases in the country, but no action has been taken.
The government has often been too soft when handling legal cases involving tycoons whose companies have been saved, such as Sjamsul Nursalim, who is also on the run, and Robert Tantular, who was released on parole last week. The government has to remember that they only need to save the companies, not their owners.
Read the Complete Story in this Week's Edition of Tempo EnglishMagazine