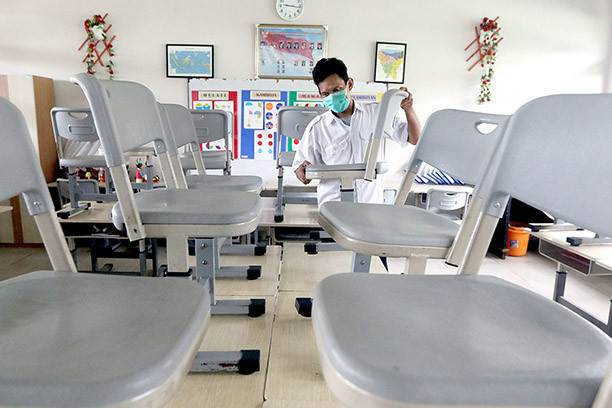 Many fear that the prolonged closure of schools in an effort to contain COVID-19 will exacerbate already yawning inequalities, but the government's plan to resume in-person education in areas where virus transmission remains unabated is dangerous.
The government revised a joint ministerial decree on Friday to allow schools in yellow zones – areas with moderate COVID-19 risk – to reopen. This policy clearly defies international guidelines, which prescribe school reopening only if local transmission of COVID-19 is under control.
Read also: Govt to allow schools outside green zones to reopen
A month before, the government said it would allow only schools in COVID-19 green zones – areas with no recorded COVID-19 transmission – to reopen.
Over that period, however, infections in Indonesia have surged, although partly because of larger-scale testing and tracing. The decision to allow students in yellow zones to go back to school and meet their friends and teachers risks worsening local transmission, putting a heavier burden on the nation's limited healthcare facilities and workers and, in the long term, slowing the economic recovery.
Currently 57 percent of the student population lives in red (high-risk) and orange (moderate risk) zones and the remaining 43 percent in green and yellow zones across 276 regencies and cities.
The stark difference between Indonesia and countries where students have returned to school – like Japan, South Korea and Israel – is that control of the virus continues to elude Indonesia. Even in the countries that have been able to manage infections, parents remain wary of letting their children attend in-person classes, regardless of strict health protocols. In certain cases, such as one in Israel, schools were closed again after reopening because students and teachers got ill.
Japan, known for its conservative approach to COVID-19, has reopened schools with extra caution. In addition to daily temperature checks, mandatory mask-wearing and social distancing rules, most students go to classes on an alternating schedule to minimize crowding.
Epidemiologists have warned that reopening schools, as well as the economy, will give the virus a route of contagion and will increase the opportunities it has for transmission, no matter if schools comply with health protocols. This possibility is even higher among children who are not well-informed about how the virus is transmitted.
Dicky Budiman, an epidemiologists from Griffith University in Australia, has urged the government to postpone in-person education until the end of 2020, citing the "relatively unreliable" data about the pandemic in the country.
Read also: Most Indonesians want schools, colleges to reopen despite pandemic: Survey
An increasing number of children between the ages of 5 and 14 are catching COVID-19 throughout the world. Data from Ourworldindata.org shows that children of that age group account for 6.8 percent of the total number of recorded cases in Indonesia, well above the global average of below 5 percent. The figure could rise if in-person education resumes.
We might have already reopened schools and the economy if the government had responded quickly and effectively to the virus from the outset. But the government has now laid blame on everyday people and has deployed the military and police to discipline them.