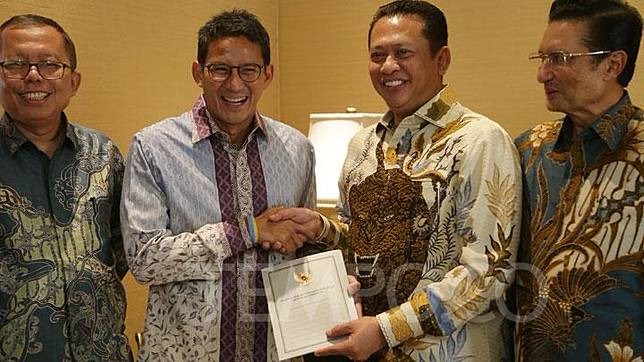 TEMPO.CO, Jakarta - Gerindra Party's central executive board (DPP) deputy, Sandiaga Uno, argues that the existence of opposition is crucial to balance out and conduct check-and-balances toward the government in power.
Sandi argues that President Jokowi - who will soon lead his second term in office - would need constant constructive inputs and said that Gerindra is ready to be the political balance against the government.
"The government definitely needs inputs (constructive criticism). They obviously cannot be surrounded by people that are only there to make [Jokowi] happy, nor does the government need buzzers that distort the inputs given by the general public. That is dangerous for our democracy," said Sandi at his house in Kebayoran Baru, South Jakarta, Thursday, October 17.
Uno said that he is one of the people wanting Gerindra to remain as oppositions outside of the government in power as he claims to have data that the people yearn for a government that has checks and balances rather than a government "fully-stuffed" by coalition parties.
Furthermore, Prabowo recently was reported stating that Gerindra Party will assist the government either within President Jokowi's Cabinet or outside of the government's main body.
BUDIARTI UTAMI PUTRI