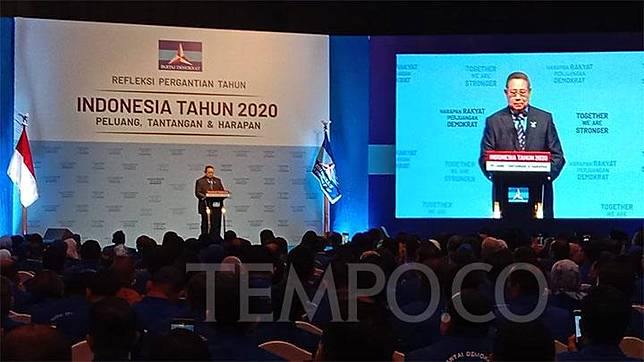 TEMPO.CO, Jakarta - Democrat Party chairman Susilo Bambang Yudhoyono (SBY) suggested the government of President Joko "Jokowi" Widodo take two major steps to maintain economic growth in the short- and medium-term.
First, boosting business investment. Also, besides state-owned enterprises, private ones must seize big business opportunities.
"Democrat fully supports the government's efforts to increase investment," said Yudhoyono in his reflective speech on the new year at JCC Senayan, Jakarta, Wednesday, December 11.
Secondly, consumers' spending must be maintained and even better be raised, both the government's spending and households'.
Yudhoyono, who is also the sixth President of Indonesia, emphasized that amid the sluggish purchasing power among the lower middle class, there are two main priorities to be actualized, namely opening new employments and ensuring enough budget for social protection, including a subsidy for the poor.
Meanwhile for the long term, the government is recommended to make every effort to increase economic growth.
Democrat also weighed in President Jokowi's strong will to escape Indonesia from the middle-income trap by 2045. "This is why we need to book high growth," Yudhoyono said.
SBY opined that referred to previous data that economic growth of six percent a year will double the income per capita within 10 years. "Inshallah, Indonesia will make it. We will have a success story within 10 years, 2004 - 2014, that our income per capita will see over three-fold hike from US$1,100 to US$3,500," he pinned hope.
ANTARA