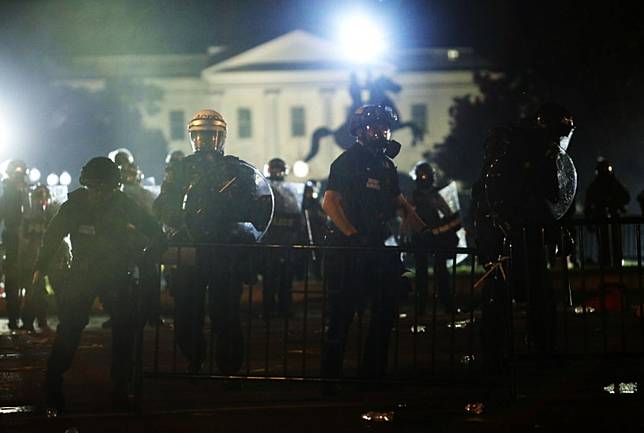 On Friday night, while protesters laid siege to the White House and flames erupted in the surrounding area, United States President Donald Trump seethed from the underground bunker and sent out this tweet: "These people are ANARCHISTS. Call in our National Guard NOW. The World is watching and laughing at you and Sleepy Joe. Is this what America wants? NO!!!" Trump was referring to Democratic mayors dealing with protests and rioting and his rival in the 2020 presidential race Joe Biden.
The truth of the matter is that the world is indeed watching, but it is not laughing at those brave and well-intentioned mayors and the Democratic Party presidential candidate. The world is laughing at Trump's leadership, or its lack thereof, during the country's national crisis.
When he made a pledge that he would "Make America Great Again" and that he would fight for "America First" during his 2017 inauguration speech, we did expect that America would abdicate some of its leadership at the global level. Soon after that, the US withdrew from the Paris Climate Agreement and put a stranglehold on the World Trade Organization. The decision to sever ties with the World Health Organization is the culmination of America's withdrawal from the world.
It does not help that Trump has a penchant for throwing insults at countries or leaders of countries that happen to cross his path. He called some African nations "shithole countries" and even started quarrels with close allies like Canada's Justin Trudeau.
Trump's transactional approach to politics — demanding NATO to pay up for security guarantees that the US military provided for Europe — risks undermining the post-World War II security arrangement that had created security, and prosperity, on the continent.
On top of that, it was just talking and a lot of talking, even when the death toll from COVID-19 topped 100,000 people and the number of unemployed reached an all-time high of 40 million people. So now, when the US is on the brink of nationwide civil unrest and everyone is calling for national leadership, such leadership is not coming from the White House.
On Sunday, some of Trump's campaign advisers recommended that he deliver a nationally televised address to prevent another night of violence. The speech never came, although we can certainly doubt the televised address would help ease the tensions. Many can certainly claim that Trump has no moral legitimacy to say anything that protesters, and other world leaders, could take seriously.
"No" is the answer that Trump got from German Chancellor Angela Merkel, when he sent an invite for the Group of 7 Summit in Camp David in June. Commenting on the move from the US government to revoke Hong Kong's special status, the propaganda arm of the Chinese government Global Times simply wrote: "What about chaos in Minnesota?"
It is unlikely that the current unrest will yield any significant change in the US. But in five months, voters will have a say if they want a national leader who could not only do something about systemic racism, but also bring respect back to America.