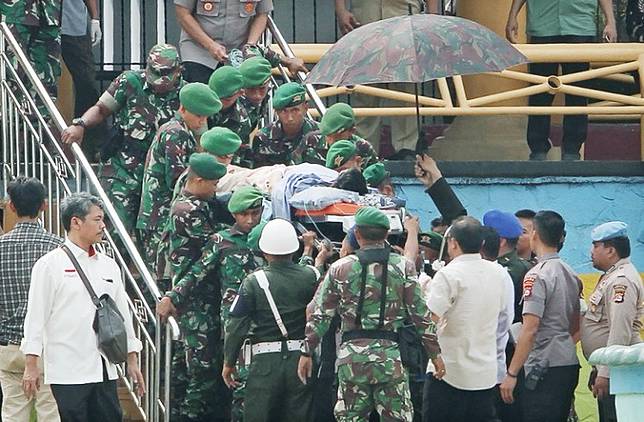 The stabbing of Coordinating Political, Legal and Security Affairs Minister Wiranto in Pandeglang, Banten, on Thursday has shocked the nation amid the current trend of public-friendly gestures among state dignitaries. Such a populist approach is championed by President Joko "Jokowi" Widodo, who at almost every public appearance is willing to take wefies with his fans, regardless of the strict security protocol.
The video footage of last Thursday's attack revealed poor security cover for Wiranto despite the presence of uniformed and plainclothes officers. The fact that the pair of attackers, described by the police as members of the terrorist group Jamaah Ansharut Daulah (JAD), could reach Wiranto unnoticed was evidence of the lax security
arrangements.
As the footage shows, the pair were standing close enough to the car that Wiranto had arrived in and could suddenly approach and stab Wiranto.
Worse is the fact that intelligence agencies had been monitoring the activities and movement of the suspects for three months prior to the incident. It remains unclear whether such intelligence information had been shared with the relevant security authorities or if it had reached the authorities but received insufficient response.
Fortunately, the suspects were considerably amateur, as seen from the way they perpetrated the knife attack. Had they been well-trained and used guns, rifles or even explosives, the result would have been fatal.
Wiranto aside, the country has seen numerous attacks, including assassination attempts, targeting public officials. In 2000, then-deputy speaker of the People's Consultative Assembly Matori Abdul Djalil was stabbed by members of a radical group. He was wounded but survived.
An assassination attempt was carried out against then-commander of the Army Strategic Reserves Command (Kostrad), Maj. Gen. Soeharto, during the turbulent regime change in 1965 to 1966. A teenage girl claiming to be a daughter of Soeharto was caught by Soeharto's wife, Siti Hartinah, carrying rat poison in her bag, believed to have been intended to kill the general, who later became the second president of Indonesia.
The fifth president, Megawati Soekarnoputri, remembered 23 plots to kill her father Sukarno during his presidency. One phenomenal assassination attempt against Sukarno came on Nov. 30, 1957, when the president was about to leave a ceremony held to commemorate the 15th anniversary of the Perguruan Cikini (Percik) educational institution in Cikini, Central Jakarta, where all his children went for their primary and secondary education. Several grenades exploded but missed the president, whose body was tightly covered by his security guards. Nine people were killed in the incident, while 100 others were wounded, including members of the presidential security detail.
Another assassination attempt against Sukarno occurred at noon on March 9, 1960. A pilot, allegedly a sympathizer of the Permesta rebel movement, fired from an MiG-17 jet fighter at the presidential palace. The president survived as he was holding a meeting in a building next door.
Another grenade attack was perpetrated against Sukarno on the evening of Jan. 7, 1962, when the president was in a convoy of vehicles en route to the Mattoangin Sports Stadium in Makassar, South Sulawesi. Sukarno survived unhurt as the grenade hit another vehicle. Two suspects with military background were convicted and received death sentences.
On May 14, 1962, a participant of a mass Idul Adha prayer, which was held in an open field within the presidential palace compound, attempted to murder Sukarno. The attacker, identified as Haji Bachrum, pulled a pistol out of his suit and pointed it at the president who had just arrived. Bachrum missed as the bullet grazed the Gotong Royong House of Representatives speaker KH Zainul Arifin, who was sitting next to the president. Bachrum was sentenced to death but later was granted clemency.
Like Sukarno, almost all the presidents after him have been the target of an assassination attempt. However, unlike Sukarno, these presidents — Jokowi, Susilo Bambang Yudhoyono, Abdurrahman "Gus Dur" Wahid and Soeharto — only received death threats.
The attack on Wiranto was an offensive against a high-ranking official by use of a traditional weapon. Many fear, however, it could only be a prelude to an attack on a larger scale that involves much more lethal weapons.
Special security arrangements are only available for the President, but not those in lower ranks, including Cabinet ministers. It is high time that such security protocol is also allocated to public officials other than the President.
President Jokowi has ordered the security authorities to beef up protection measures for public officials to prevent such attacks from recurring.
The measures, however, will remain ineffective without coordination in general and information sharing in particular among related security and intelligence agencies.
It is perhaps too much to expand the spectrum of analysis of the attack on Wiranto into, for example, a possible assassination plot targeting President Jokowi, who will be sworn in as the President for his second and final term on Oct. 20. However, it is worth anticipating, as unexpectedness remains the most difficult aspect of terrorist threats.