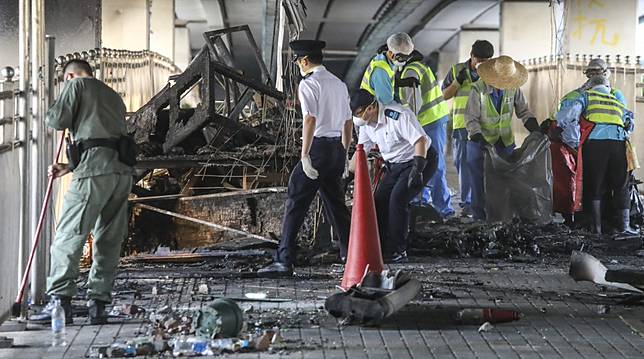 Hong Kong had a rare day and evening of relative calm on Wednesday after more than a week of violence in multiple locations, including the fierce clashes at Polytechnic University, where 100 protesters are still defying surrender despite repeated pleas for them to leave the campus.
While the university grounds in Hung Hom continued to be sealed off by police with officers arresting anyone who tried to flee, the government began clearing roadblocks outside and around the Cross-Harbour Tunnel toll plaza, with plans to reopen the city's most heavily used tunnel soon.
The link has been closed since last Wednesday, the longest closure in its history, after it was repeatedly blocked by radicals and its toll booths set on fire several times.
Following extremely violent clashes near the area on Sunday that police declared as a riot, the campus had been surrounded by the force who were still locked in a stand-off with protesters inside.
By Wednesday, 1,000 people from PolyU had been arrested or surrendered, 300 of whom were under 18 and were released after their details were recorded. Police retained the right to follow up with their cases later on.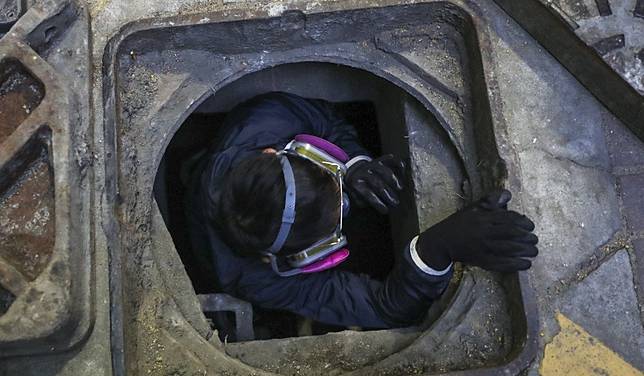 Among those arrested were two young men trying to escape by climbing down a manhole into underground sewers. They emerged out at another end outside the campus, only to find police waiting for them. They were then arrested for rioting. Three men and one woman who lifted the manhole cover to help them out were also arrested for assisting a crime.
Another 37 people were arrested for abseiling down a footbridge to a highway on Monday.
"I must stress that our cordons have covered all the areas concerned," Yau Tsim District Commander Ho Yun-sing said at a Wednesday evening media briefing outside PolyU. "Those who want to escape from their responsibility will not succeed. They will only put lives in danger. I appeal to them to put down their weapons and leave (PolyU) peacefully."
He reiterated the government's position that the stand-off should be resolved peacefully and in a humane manner.
Police's siege of the campus and heavy firing of tear gas in the stand-off have prompted comments of concern from foreign governments.
Rupert Colville, the UN high commissioner for human rights, was among them. He urged the Hong Kong government to "address the humanitarian situation of those inside" and facilitate a peaceful solution. Colville also appealed to all engaging in protests to renounce and condemn the use of violence.
PolyU president Teng Jin-guang, showing up on the campus for the second time since police surrounded the premises on Sunday evening, estimated there were about 100 protesters still inside, and about 20 of them were PolyU students.
Teng said he was not aware if police had a "deadline" for their surrender.
He also responded to criticism that he had not been proactively dealing with the crisis happening on his turf, saying he had been "working behind the scenes".
He said the school was concerned about the presence of chemicals on campus and the deteriorating hygiene, and would make plans for a clean-up later on.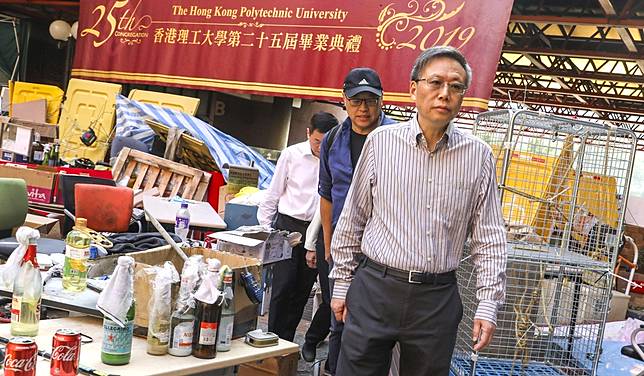 Soon after Teng spoke, a group of hundreds, led by leaders of the pro-Beijing Federation of Trade Unions, arrived in front of Hung Hom railway station with brooms, gloves and trash bags. Some marched along Hung Hom Bypass and Salisbury Road to sweep dirt and remove barricades, while others were seen taking group pictures.
Earlier in the day, other protesters appeared to have scaled back their actions compared to last week. From the start of last week, protesters had disrupted MTR services and blocked roads in a bid to force a citywide strike. They mobilised people to join lunchtime protests at Central and elsewhere which at times turned ugly with bricks thrown and tear gas fired, and engaged in tense stand-offs with police well into the night at multiple locations.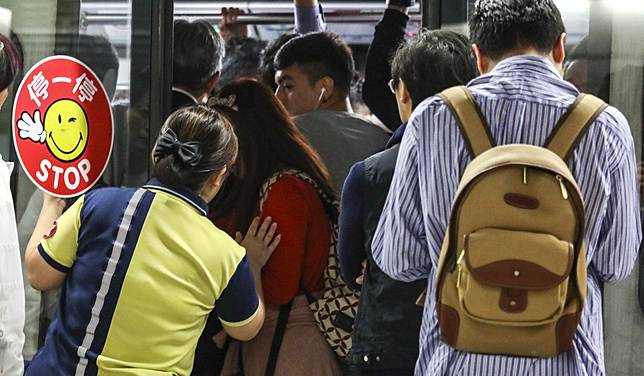 On Wednesday morning, the MTR's Kwun Tong, Tsuen Wan and Island lines were delayed for 15 to 20 minutes as protesters blocked train doors. But these were minor disruptions compared to the hours-long paralysis of some of the train lines last week.
The three lunchtime protests, in Central, Kwun Tong, and Tai Koo, also ended quickly without incident. Those in Central were prevented by dozens of police officers from walking onto the road as they did before, and most left the scene soon after.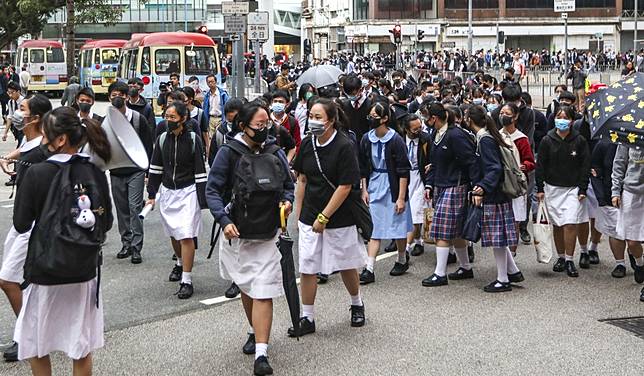 Some secondary school students attempted to block roads on their first day back since classes were suspended last week. Around 100 students marched from Kwun Tong MTR station and disrupted traffic at a road junction before the start of class. Another group of 50 formed a human chain outside a school in Tsuen Wan to try to stop their peers from entering. But the action ended soon after riot police arrived.
Back at PolyU, Auxillary Bishop Joseph Ha Chi-shing, one of Hong Kong's prominent figures allowed to enter the campus to mediate and persuade protesters to surrender, said those he met were very tired and anxious. "You can see they feel helpless and frightened. They have not decided their next move."
Tom was one of them. The 23-year-old said he could not help feeling uncertain and homesick.
"We tried to get what we can get our hands on," he said.
But he was not sure how many more days the supplies could last. Despite missing his family badly, he was not willing to surrender as he was worried how police would treat him. Another protester said there were about 40 radicals who would not give themselves up at all cost. Among them is a 12-year-old, he said.
On Wednesday evening, the last of seven first-aiders retreated from the campus, as other medical service providers, including St John's Ambulance were allowed in to render help, along with volunteer doctors.
On LIHKG, a Reddit-like internet forum, protesters were discussing how to reach out to those in PolyU, and what other actions to take. One suggested the less radical ones should stage another "singing protest" in malls near their home on Wednesday evening "to let the hardcore ones take a rest". This sparked questions on whether it was a "right" way to support those trapped in PolyU, and if it was still safe to do so in a mall with the risk of being arrested.
There was another discussion on whether the traffic disruptions and road blockage should continue on Thursday, with one asking "what's the meaning of still doing this?" while another suggested taking a rest and "waiting for the US to plan" its move as the Senate had passed the Hong Kong Human Rights and Democracy Act, a bill that could pave the way for diplomatic action and economic sanctions against Hong Kong.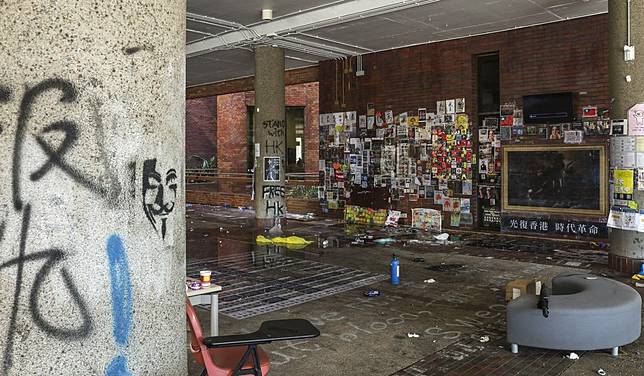 Ivan Choy Chi-keung, a political scientist at the Chinese University of Hong Kong, said it was hard to say whether their movement was losing momentum with the major blow at PolyU, or whether protesters would re-emerge as a united force at the district council elections on Sunday.
"If you look at discussions on the online forum, it is hard to draw a conclusion," Choy noted. "Some say the most hardcore group has actually escaped. How many of them remain out there? And we do not know what they actually think about the district council elections - do they want to vote or not? It's hard to say for a leaderless movement like this."
On Wednesday evening, Chief Executive Carrie Lam Cheng Yuet-ngor posted on Facebook that she held a meeting with department heads to discuss ways to restore social order as a top priority. She also told heads of offices stationed overseas and on the mainland to help dispel rumours about the city's situation. She did not elaborate on what the hearsay was.
Additional reporting by Kanis Leung, Lilian Cheng and Martin Choi
Copyright (c) 2019. South China Morning Post Publishers Ltd. All rights reserved.