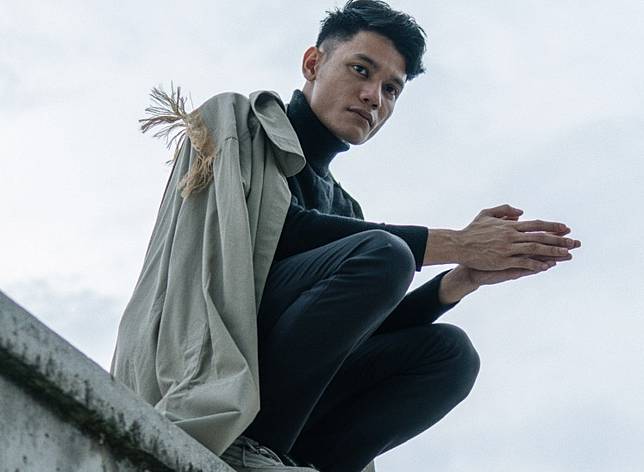 It was through the painful first taste of heartbreak that Alex Bong, known as alextbh, first turned to music as a form of expression. He was 18 years old when his first relationship came to an end. And for alextbh, music was the only way he felt comfortable expressing his feelings.
Five years later, the Malaysian R&B and pop artist has garnered over 50 million streams worldwide and worked with artists like Khalid and Sevdaliza. He has dedicated himself to music and built a strong fanbase in the process.
He is also paving the way for many in the lesbian, gay, bisexual and transgender (LGBT) community as an openly gay artist from a conservative country. In Malaysia, homosexuality is punishable by law, but that has not stopped alextbh from expressing himself freely. Many fans see his openness as a source of inspiration and hope, especially in a part of the world that so often oppresses queerness.
Now, alextbh has a new musical project to share and will release his EP, The Chase, this Friday.
The Jakarta Post spoke to alextbh about his upcoming EP, the situation for the LGBT community in Malaysia and his feelings about the current push for justice the world is experiencing.
Editor's note: This interview has been edited for length.
Read also: 'I woke up gay': Malaysian LGBT+ band uses music to fight bias
Tell me about your upcoming EP, The Chase. What does it focus on and what's the theme of it?
I think The Chase comes from a place of void, a feeling of emptiness. It's my plea to tell people I've been in this endless cycle of meaningless casual relationships and I didn't know how to break out of it because I was also trying to prove a point that I was resilient and nobody could touch me, so I felt like building my walls up was the best way to resolve that. But it turns out, all I did was push people out. Sometimes, I wonder if my walls are just a little bit more porous and I let people in, even for one second, maybe I wouldn't be as miserable as I was.
The Chase tries to bring those questions up. Questions of, how do you navigate around hook-up culture in these modern times? Because, especially if you live in cities, I feel like no one really wants to commit. This is something that not a lot of people talk about, let alone in queer communities. It's heartbreaking to hear my friends saying a one-year relationship feels like forever. We're all trying to chase that ultimate form of relationship, but at what cost?
What was the process of making The Chase?
It started off as "The Chase", the track itself. I wrote it in the bedroom studio of my friend's place in London. When I heard those chord progressions, I knew that was the kind of music I wanted to write. I could've been in my comfort zone and just write something super sad ala 2016 alextbh. But I feel like I've moved on from that narrative.
It was kind of hard to write it at the beginning because, again, it comes from a place of void; it's emptiness. The song itself came about and the rest of the songs built themselves around that.
How long did it take to put this EP together?
It felt like forever. I think it started off in the summer of 2018 when I made my first trip to Europe. I think it must have taken over one and a half years for the whole thing to really come together. I'm just so excited to put it out.
When it comes to the LGBT community and being an openly gay artist, is there anything you feel is important to discuss that needs to be heard right now?
Yeah, ever since the inception of Malaysia, the queer community has always been the backbone of this country. But they're the ones who've been ostracized the most. It's just heartbreaking, especially [for] the trans community.
I personally feel like I'm very privileged because I'm surrounded by people, friends and family who are really supportive and are behind everything I say. But that's not necessarily the case for a lot of people here, especially if you're Muslim. The government will send you to conversion therapy if you're gay. It's just completely ridiculous.
We've been constantly swimming against the current for so long. It's really hard for people to come together and stay safe and continue fighting for this cause. At this point, if we can bring this issue to the world stage and have the world see what injustices are happening in Malaysia, I feel like there will be more proactive measures taken to protect the community here.
What do you think the next steps are for the community?
It's not necessarily a step but it's just the continuation of the fight. Education, support and making sure all the organizations have enough funding to continue their support to help homeless LGBT people. The momentum is there, but we just need to constantly remind ourselves to not slow down.
Since George Floyd was killed in police custody in May, we've seen a huge push for justice for Black people and other people of color. The LGBT community has been involved in that push and I wanted to see what your perspective on this moment is. How are you feeling about the current moment especially in regard to the LGBT community?
I think queer communities around the world are definitely starting to wake up. I think ever since George Floyd's death, a lot of POCs [people of color] also started to reevaluate themselves, myself included.
It seems like Black issues are not exactly our issues, maybe because of proximity or maybe because we don't have a huge Black community here. But ever since George Floyd's killing, we've uncovered so many injustices here in Malaysia. Now is really the time for our community to reflect and help as much as possible. I'm very happy to see that the community in Malaysia is doing just that.
Do you think music and art play a part in movements for justice?
To me, music and art is heavily interwoven with politics. For me, music is political by nature. My artistry and music that I make, the pronouns that I use in the songs, they reflect the fact that I'm fearless in expressing my identity and I don't really hold anything back.
It's very important to have music and arts playing a part in helping to shape this reform. So many artists come together and put out music about Black Lives Matter and the injustices. That reminds me of why I'm doing this as well, why I chose to become a musician in the first place. At the end of the day, it's a political tool.
What are your goals looking forward?
I definitely want to keep churning out as many bops as I can this year. I've been writing relentlessly and I'm really, really excited for this EP, but I don't think this is the end of the narrative yet. The Chase merely brought out questions.
I feel like in the next EP, I am going to try and answer it on behalf of me and the community after hearing what they've been through. We just feel like we don't know where this is heading to and it feels scary not knowing what we want. And we used to think that we want the ultimate form of relationship but that's not really the case. So, I want to just keep writing music. (kes)
---
The writer is an intern at The Jakarta Post.