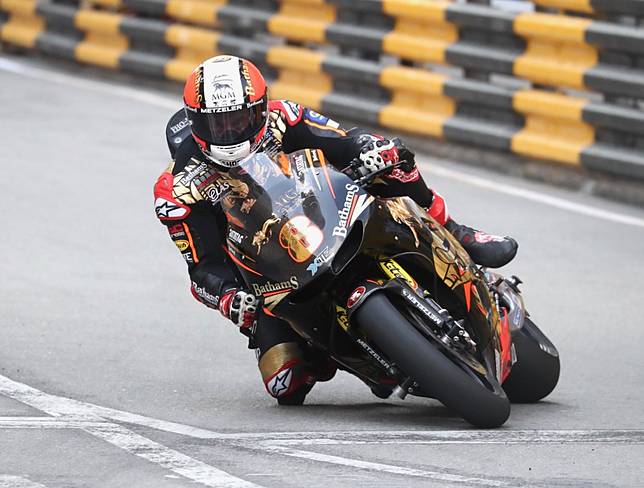 The Macau Motorcycle Grand Prix ended with not a bang but a whimper after two red flags meant that the race was called off for a second time and then cancelled.
Race commentators reported that there would be a result declared but because regulations stipulate that for a grand prix to be run, three laps have to be completed.
That was not the case so the 53rd Macau Grand Prix at the time of either stoppage so it was declared null and void.
"There is not a result," said a spokesperson for the organisers. "There will be no podium."
Michael Rutter was leading when the bikes went in for a second time, having outfoxed teammate Peter Hickman at the restart as the sun set over the famous street circuit on Saturday evening. However, hours later, organisers declared Rutter the winner, meaning the "Blade" had won the Macau Motorcycle Grand Prix for a record-extending ninth time. It was the 47-year-old's first victory at Macau since 2012.
Hickman had been in pole when the race originally started and was leading into the third lap when a crash involving Robert Hodson and Marek Cerveny caused the race to be stopped for the bikes and the track to be cleared.
Another massive multi-motorbike pile-up saw the race stopped for a second time, bringing an end to the day's racing.
Daniel Kruger, Didier Grams, Erno Kostamo, Michael Sweeney, Phillip Crowe and Derek Sheils were all involved in the crash at Police, which is not one of the fastest parts of the track but has proved costly for the cars this weekend.
The other bikes were back in the pits with seven laps still to go of the race on the live broadcast, as everyone awaited a decision on the race and the injured drivers.
There was initially speculation that the race could have been rescheduled for Sunday but the second red flag made that more difficult and the decision was taken to cancel the race.
Organisers said that Sunday's packed schedule - featuring the Formula 3 Grand Prix, a pair of World Touring Car Cup races and the FIA GT World Cup final - was too tight to find a window for the Motorcycling as well.
None of the injured riders had life threatening injuries, according to race control. Kruger, Kostamo and Sheils have been taken to a local hospital for observations but all are conscious.
Copyright (c) 2019. South China Morning Post Publishers Ltd. All rights reserved.