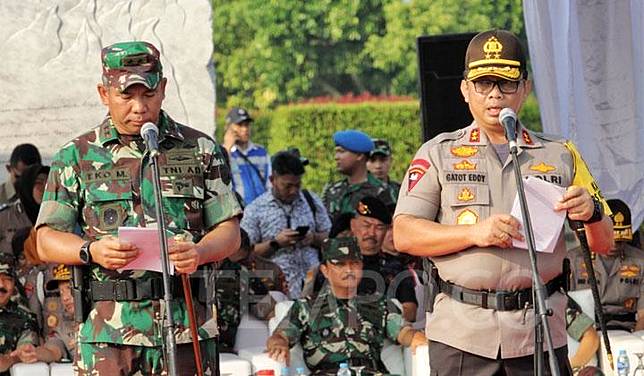 TEMPO.CO, Jakarta -The Commander of the Jakarta Regional Military Command, Maj. Gen. Eko Margiyono, announced that authorities would not process any permit for a public demonstration up to President Jokowi's inauguration on October 20. This ban also applies to protests aimed at the House of Representatives (DPR).
"This effectively makes any form of protest unofficial or illegal," said Eko after a coordination meeting on the presidential inauguration with DPR leaders at the Senayan Parliamentary complex on Monday.
Eko has been appointed to spearhead security measures during the presidential inauguration and presidential security measures. The Jakarta Police and the National Police Headquarters (Mabes Polri) will also help secure the event.
Jakarta Police Chief Insp. Gen. Gatot Eddy Pramono announced the police had exercised its discretion to not issue any notice for a protest from October 15-October 20 to maintain a "secure condition", as a number of global state leaders were scheduled to attend President Jokowi's inauguration.
"We should respect that as we are known as a nation that is polite and courteous," said Gatot.
*DEWI NURITA *