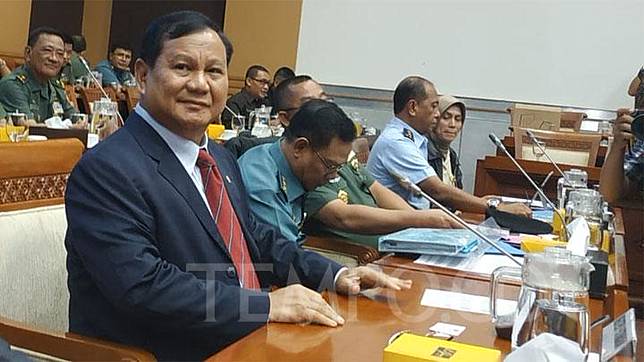 TEMPO.CO, Jakarta - Defense Minister Prabowo Subianto will purchase Danish frigate-built warship that is capable to cruise long distances. The warship reportedly will be used to guard Indonesian outermost waters, including around the Natuna Islands.
Coordinating Minister for Maritime Affairs and Investment Luhut B. Pandjaitan said the ship will support the operation of the Maritime Security Agency (Bakamla).
"Defense Minister plans to buy the ocean-going warship with 143-150 meter long, from the shipyard in Denmark. The ship can travel far and free; the same level as a frigate," Luhut said Friday, January 17.
Previously, at least 50 Chinese fishermen boats, guarded by Chinese coastguard vessels, entered the Indonesian Exclusive Economic Zone (EEZ) in mid-December 2019. Bakamla and the military (TNI) had ordered them to leave but they did not obey the order.
Several days later, Indonesia sent a protest to China. "Indonesia does not have overlapping jurisdiction with China. Indonesia will never recognize China's nine dash-line since the setting of the lines was against the UNCLOS as stated in UNCLOS Tribunal Ruling in 2016," the Foreign Affairs Minister stated.
However, the spokesperson of China Foreign Minister Geng Shuang, on the other hand, stated that China has sovereignty over the Nansha Islands and sovereign rights and jurisdiction over the relevant waters, including Indonesian EEZ in the Natuna waters. Beijing stated it has historical rights of the South China Sea and that Chinese fishermen had been long conduct their activities in the relevant waters near the Nansha Islands.
Recently, the Political, Legal, and Security Minister Mahfud MD, confirmed that the Chinese vessels cruising in Natuna waters had left the Indonesian EEZ. "They're still cruising in but out of our EEZ," Mahfud said Tuesday, January 14.
BISNIS