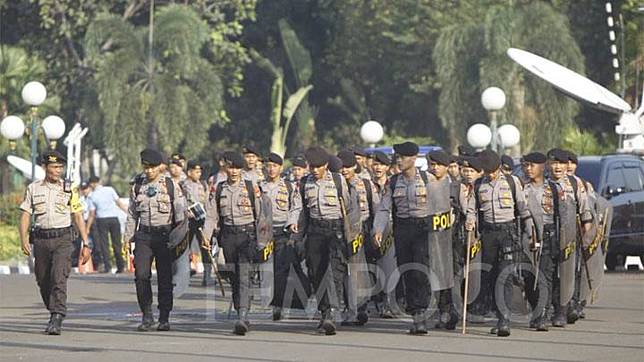 TEMPO.CO, Jakarta - As many as 1,000 security officers are deployed to safeguard the inauguration of the elected President Joko Widodo or Jokowi and Vice President Ma'ruf Amin on Sunday, October 20.
"We deploy 1,000 officers with the support from Kodim, Polda (Jakarta Metro Police), and military (TNI)," said South Jakarta resort police chief Sr. Comsr. Bastoni Purnama, as quoted by Antara in Jakarta, Saturday, October 19.
The security is aimed at anticipating the potential of security disruption and public order in the South Jakarta area in supporting the inauguration event to run safely and soundly.
The cops are tasked to secure a number of vital objects and crowded centers in the South Jakarta area.
According to Bastoni, Jokowi-Ma'ruf's inauguration will be attended by representatives from 18 countries and will be covered by national and international media.
The People's Consultative Assembly (MPR) has decided to hold the presidential and vice-presidential inauguration on October 20, 2019, at 14.30 Jakarta time.
ANTARA