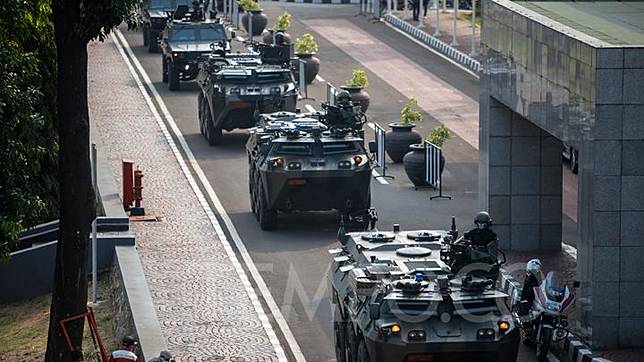 TEMPO.CO, Jakarta - Jakarta Metro Police prep three layers of security system to support the inauguration of president and vice-president-elect, Joko "Jokowi" Widodo-Ma'ruf Amin, at the parliament building tomorrow, October 20.
"The National Police is ready to safeguard tomorrow's inauguration event," Jakarta Metro Police Chief of Public Relations Sr. Comsr. Argo Yuwono said Saturday, October 19. He also asked for the public's support to help success the presidential inauguration that will be attended by leaders of other countries and covered by international media.
As many as 31,000 joint personnel from the police and military (TNI) will be posted in three areas.
The first ring is in the House of Representatives (DPR) building where the inauguration ceremony will take place. The Presidential Security Force (Paspampres) is in charge of the security in this area.
Meanwhile, the second and third rings – at the DPR and surrounding area – will be guarded by TNI and Police personnel.
The police have also set a security scheme for the international guests that will attend the Indonesian president and vice president's inauguration for the period of 2019-2024.
Jakarta Metro Police also set special teams to escort the guests heading to and leaving from the location of the event.
ANTARA