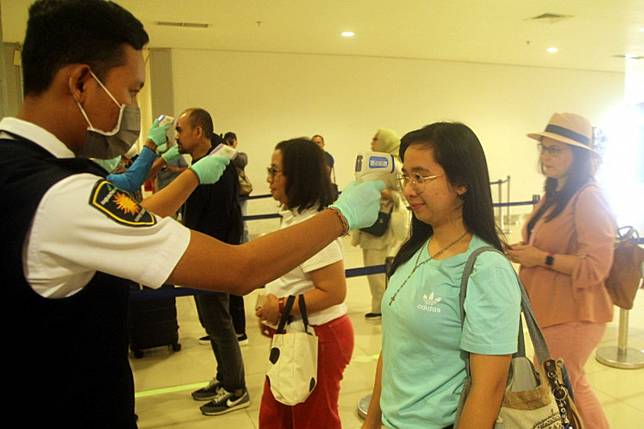 President Joko "Jokowi" Widodo announced on Thursday that he is considering forming a holding company for aviation and tourism state-owned enterprises (SOEs), as well as developing international hub airports, to help revive the industries, which have been battered by the COVID-19 health crisis.
Jokowi said he aimed to integrate SOE management to improve consolidation and boost tourism, including airlines, airport management, tourism destination operators and hotels.
"I think the current tourism downturn is the right moment to start a consolidation and transformation in the tourism and the aviation sectors, and we could establish an SOE holding firm [for] a unified vision," he said during a limited Cabinet meeting in Jakarta.
Jokowi's proposal comes after the country saw its economy contract 5.32 percent, for the first time since 1999, with the transportation and warehousing sector suffering a 30.84 percent decline from last year, the steepest drop of all sectors.
The pandemic has depressed both the aviation and tourism industries, as people stay at home amid social restrictions. The tourism sector is estimated to have lost Rp 85 trillion (US$5.87 billion) in revenue so far this year as the pandemic unfolds, according to data from the Indonesian Hotel and Restaurant Association (PHRI).
According to the association's data, the hotel and restaurant industry has lost nearly Rp 70 trillion in revenue, while aviation and tour operators have lost Rp 15 trillion in revenue as leisure travel ground to a halt.
National flag carrier Garuda Indonesia has also reported a loss of $712.73 million in the first half of this year after booking a net profit of $24.11 million in the same period last year.
As part of the transformation effort, President Jokowi said he would also like to reduce the number of international airports in Indonesia and establish a number of international hubs.
"We currently have 30 international airports, but 90 percent of flight traffic occurs in just four airports, which are Soekarno-Hatta International Airport [in Tangerang, Banten], [I Gusti] Ngurah Rai International Airport in Bali, Juanda International Airport in Surabaya [East Java] and Kualanamu International Airport in North Sumatra," he said.
I Gusti Ngurah Rai airport and Soekarno Hatta airport are the dominate points of entry for foreign arrivals, with 6.2 million and 2.4 million arrivals in 2019, respectively.
The President intends to evaluate the international status of several airports, while transforming eight airports into international hubs, which will include the four airports with the highest traffic.
The remaining four airports are Kulonprogo International Airport in Yogyakarta; Sepinggan International Airport in Balikpapan, East Kalimantan; Sam Ratulangi International Airport in Manado, North Sulawesi; and Hasanudin International Airport in Makassar, South Sulawesi.
Responding to the President's statement, Transportation Ministry spokesperson Adita Irawati told The Jakarta Post on Thursday that the ministry was in talks with the SOE Ministry regarding the matter.
"We fully support the President's idea and will take further action to realize it. Currently, we are in discussions with the SOE Ministry and other stakeholders," she said via text message.
Former state-owned enterprises minister Rini Soemarno had previously proposed the formation of an aviation holding company while she was part of the Cabinet.
The proposed company was designed to integrate Garuda Indonesia with two state airport operators, PT Angkasa Pura I (AP I) and PT Angkasa Pura II (AP II), but the plan never materialized.