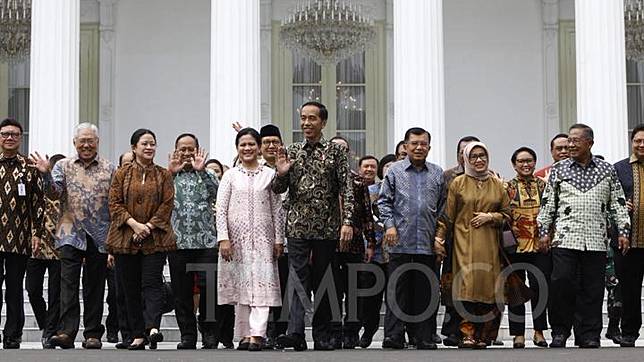 TEMPO.CO, Jakarta -In a farewell gathering of President Jokowi's 2014-2019 "Working Cabinet" members held in the Presidential State Palace on Friday, October 18, 2019, he recalled that every day he spent leading his first term as president was always a special day.
"It was special as it proved to be a headache, special because we were chased by deadlines, special because we faced new problems every single day, we had problems that needed fixing each day. However, we eventually were used to that situation as deadlines are crucial in the preparation and anticipating an existing problem," said the President.
In the gathering, Jokowi stated his farewell for his State Ministers and Cabinet members as he is set to step into his second-term with Vice President Ma'ruf Amin on Sunday, October 20, 2019.
The President announced that he will reveal the new composition of state ministers after the presidential inauguration ceremony ends or the day after.
In economic terms, Jokowi said the government he leads will need to reach the goals that were not achieved in his first term as it is part of the government's evaluation. One of the elements he says will be focused on is to realize Indonesia's economic growth of 7 percent as initially intended. Currently, Indonesia's economy has remained within 5-percent.
BISNIS