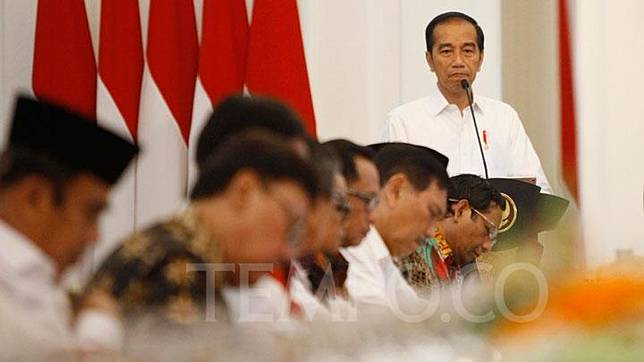 TEMPO.CO, Jakarta -President Jokowi had just held the inaugural plenary meeting with his new "Indonesia Maju" Cabinet members at the Merdeka Palace on Thursday, October 24. In his opening speech, Jokowi reminded Ministers to maintain harmony and teamwork.
The president also urged Ministries to "synergize with each other" through the available Coordinating Ministries.
"Each Ministry would not run on their own. Work as a team that is overseen by the coordinating ministers. I don't want to hear another case of not attending a coordinating minister's invite. That happened, I also just heard about it," said Jokowi.
Without revealing the name of the state minister in question, the President highly regrets such incident happened in the past.
"I underline the importance of teamwork," the president said.
President Jokowi also mentioned about the vision of state ministers that must follow the state leader's vision. He also said that this is something that his past Cabinet failed to understand. He also called for Ministers to argue or debate with each other within a meeting, rather than outside of a meeting.
"I will surely listen to debates that happen within a meeting," he assured.
EGI ADYATAMA