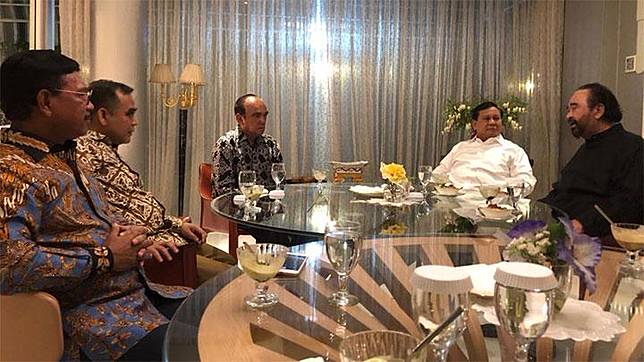 TEMPO.CO, Jakarta - The meeting of NasDem and Gerindra Party chairmen, Surya Paloh and Prabowo Subianto, resulted in several political agreements. The two agreed that the 1945 Constitution must be amended completely.
"The two leaders of the political parties agree that the constitutional amendment should be carried out thoroughly on the needs of state governance in accordance to present challenges and the better future of the nation," said NasDem secretary-general Johnny G. Plate, reading the political agreement points at Surya Paloh's residence, Sunday, Oct. 13.
When asked for details, Surya Paloh reiterated that he and Prabowo opined that the amendment should not be limited to the reinstatement of the State Policy Guidelines (GBHN).
"For instance, the simultaneous general election must be reviewed together either it will be reestablished in the next five years or it will be held separately. Many other issues [are discussed], too," Paloh remarked.
Johnny added that the two figures did not discuss in detail the points of the amendment. "The discussion [is held] as a whole," said Plate.
Contrasted to Suryo Paloh and Prabowo's views, PDIP chairwoman Megawati Soekarnoputri earlier stated that she wants the amendment to be limited to the reinstatement of GBHN. As widely reported, PDIP is the keenest to fight for this amendment.
After a meeting between Megawati and the People's Consultative Assembly (MPR) deputy speaker Arsul Sani at Megawati's residence, Arsul declared that the former President and the Assembly agree to limit the subject of the amendment on the economy and development affairs, leaving the political system and the mechanism of the presidential election.
DEWI NURITA