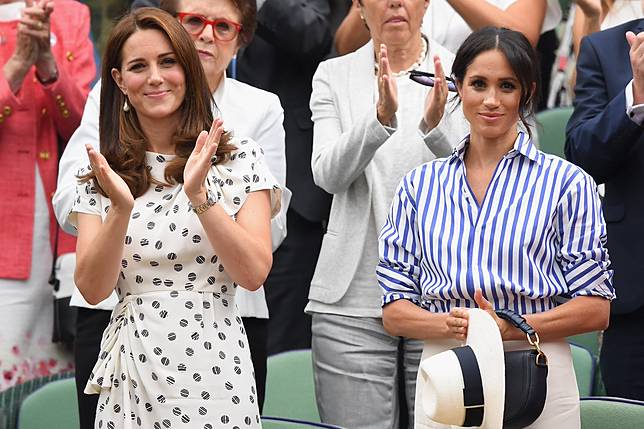 The Duchess of Sussex Meghan Markle melakukan kunjungan dadakan ke salah satu lembaga amal di bawah naungannya yang fokus pada hewan pada awal bulan ini. Kegiatan itu kemudian di posting lewat akun Instagram resmi Pangeran Harry dan Meghan Markle, @Sussexroyal, pada Rabu (22/1) kemarin.  
Di postingan itu, Meghan Markle yang memakai coat biru gelap tampak tersenyum saat memasuki fasilitas lembaga amal The Mayhew yang berlokasi di London, Inggris. Di foto berikutnya tampak Meghan Markle menjenguk seekor anjing yang dirawat di fasilitas tersebut. 
View this post on Instagram

Earlier this month, The Duchess of Sussex popped in to see the amazing people at Mayhew to hear about the incredible progress made throughout the festive period. The Duchess of Sussex, having been proud patron of Mayhew since January 2019 and long understanding the connection between animal and community welfare, applauds the people at Mayhew for the vital work that they do every day. From cats and dogs who have found new homes to animal welfare cases handled in the community - @TheMayhew believes in the power of togetherness and the special bond between humans and animals. Image © SussexRoyal

A post shared by The Duke and Duchess of Sussex (@sussexroyal) on Jan 22, 2020 at 12:00am PST
Unggahan ini rupanya menarik perhatian khalayak. Pasalnya unggahan istri Pangeran Harry itu dibuat berbarengan dengan kampanye kesejahteraan anak yang diinisiatif Kate Middleton. Muncul tudingan, Meghan Markle ingin menyaingi Kate Middleton lewat postingan tersebut.  Hal itu pun mengundang kecaman netizen. 
View this post on Instagram

Today The Duchess of Cambridge visited HMP Send to talk to some of the women she met during a visit to the prison in 2015 — who have since been successfully rehabilitated, released and are rebuilding their families, in addition to women currently at the prison. The Duchess heard about the work that the Forward Trust do at the prison in supporting clients to improve their relationships with friends and family, including reconnecting with children. Among those that The Duchess spoke with today was Kirsty, who she first met in 2015. Kirsty spent her childhood in and out of the care system. Following a series of adverse experiences, she turned to substance misuse and began a 10-year cycle of addiction and reoffending: • "While serving my sentence, I woke up one day and realised enough was enough. • I took myself to my drug and alcohol worker and asked for help. I was lucky enough to be sent to HMP Send for a fresh start. • The programme changed my life. In some of my darkest moments since, I have never turned back to drugs." • What we experience in the earliest years – from in the womb to the age of five – is instrumental in shaping our future lives. The Duchess of Cambridge has spent time meeting with families across the country and hearing about the issues they deal with day-to-day, in addition to speaking with academics, experts, organisations and practitioners. It takes just 5 minutes to have your say in the biggest ever conversation on early childhood – click the link in our bio to answer the #5BigQuestions on the Under 5s.

A post shared by Kensington Palace (@kensingtonroyal) on Jan 22, 2020 at 10:08am PST
"Kamu tak bisa menahan untuk tak mempostingnya, ya Meghan? Duchess of Cambridge muncul di halaman depan seluruh halaman surat kabar di Inggris dan kini Anda merilis foto yang dibuat dua pekan lalu?" @komentar netizen.
"Foto berusia dua minggu dan Anda mempostingnya bertepatan dengan kampanye yang diluncurkan Kate. Sangat, sangat menyedihkan," komentar yang lain. 
"Meghan, kamu harus tenang, itu menggelikan," sebut netizen lagi.
Kate Middleton bergabung dengan keluarga Kerajaan Inggris setelah menikah dengan Pangeran William pada April 2011. Sementara Meghan Markle menjadi bagian dari Kerajaan Inggris setelah dipersunting Pangeran Harry pada Mei 2018. Pada awal bulan ini, Meghan Markle dan Pangeran Harry memutuskan mundur sebagai anggota Kerajaan Inggris.