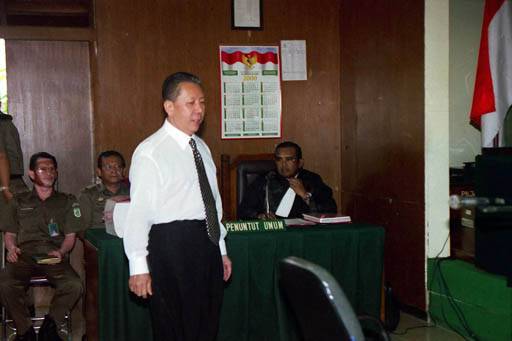 Watchdogs and a lawmaker have urged the National Police to take stern action against police officers allegedly involved in helping fugitive and graft convict Djoko Soegiarto Tjandra travel across the country.
The National Police have removed from his post the head of the Civil Servant Investigation Supervisory and Coordination Bureau of the Criminal Investigation Department (Bareskrim), Brig. Gen. Prasetyo Utomo, after an investigation by the police's Internal Affairs Division (Propam) found he had issued a letter permitting Djoko to travel in Indonesia.
The decision was based on a police telegram signed by National Police chief Gen. Idham Azis.
"We have detained him at Propam for 14 days," National Police spokesman Insp. Gen. Argo Yuwono said on Wednesday as reported by kompas.com.
The investigation, he explained, had revealed that Prasetyo had issued the permit on his own initiative in a move unrelated to his position at the police force. Argo further said that Prasetyo had not reported the matter to his superior.
Prasetyo, a one-star police general, signed a travel permit for Djoko on June 18, allowing him to fly from Jakarta to Pontianak in West Kalimantan on June 19 and return on June 22 for a business purpose.
The letter reportedly allowed the graft convict to travel without having to pass security checks throughout his trip. Argo explained that that kind of letter was usually issued by the Bareskrim chief or deputy chief for a police officer on duty.
Democratic Party lawmaker Benny K. Harman said the penalty was insufficient.
"Prasetyo must be dismissed from the police institution and sent to prison. The police also need to further investigate the other officers' involvement in the matter. They need to be given harsher punishment," he said on Thursday.
Read also: House seeks answers about escape of Djoko Tjandra
Indonesia Corruption Watch (ICW) also called for the National Police to take serious action in response to the high-ranking officer's involvement in helping Djoko Tjandra, who was found guilty in the high-profile Bank Bali corruption case.
"The National Police chief should have dismissed Brig. Gen. Prasetyo Utomo from the institution and started legal proceedings in the case," ICW spokesperson Tama S. Langkun said through a statement released on Thursday.
The NGO also condemned the removal of the Red Notice status for Djoko Tjandra, as well as the issuance of an e-ID card for the fugitive and questioned the immigration authorities who allegedly issued a passport for Djoko and allowed him to enter and travel across the country.
"The Corruption Eradication Commission [KPK] must investigate the indication of bribery, which might involve several parties that helped and facilitated fugitive Djoko Tjandra go back and forth to Indonesia undetected," Tama added.
The NGO Indonesia Police Watch (IPW) on Thursday demanded that the National Police chief investigate Brig. Gen. Nugroho Wibowo, the current secretary of the National Central Bureau (NCB)-Interpol Indonesia, for allegedly removing the Red Notice status for Djoko Tjandra, so that he could travel back to Indonesia.
Interpol issued a Red Notice against Djoko in 2009, requesting that law enforcement authorities worldwide locate and arrest him. Djoko was then put on Interpol's most-wanted list in 2015.
Neta alleged that Nugroho submitted a notification letter dated May 5 to the Immigration Directorate General saying that the Red Notice against Djoko had been revoked in 2014. Previously, Anna Boentaran – Djoko's wife – had sent a request to the NCB Interpol on April 16 regarding the removal of the Red Notice status for her husband.
The immigration authority responded to Nugroho's notification by removing Djoko from its border crossing detection system on May 13. 
"Seeing these facts, the IPW suspects a conspiracy between several officers to protect Djoko Tjandra," Neta said as quoted by magazine Tempo.
Argo said Propam was currently questioning Nugroho regarding the accusation, wartakota.com reported on Thursday.
Djoko Tjandra was sentenced to two years of imprisonment and ordered to pay Rp 546 billion (US$54 million) in restitution by the Supreme Court in 2009 for the Bank Bali corruption case in 1998. He escaped to Papua New Guinea and his whereabouts remained unclear, but he has reportedly traveled across the country undetected for the past three years.
He obtained an e-ID card from the South Grogol subdistrict in Jakarta and filed a request for a case review with the South Jakarta District Court on June 8.
He obtained a passport on June 27.