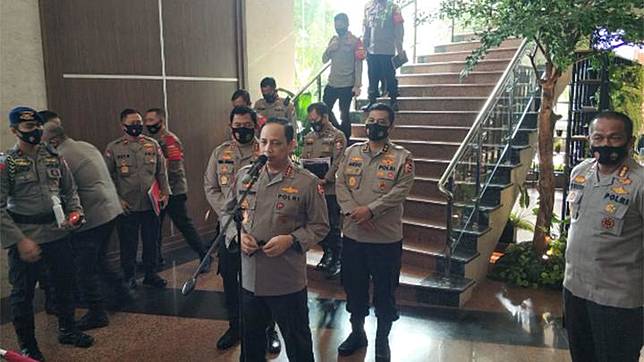 TEMPO.CO, Jakarta - The National Police Deputy Chief Comr. Gen. Gatot Eddy Pramono threatened to dismiss heads of sectoral up to regional police who did not implement the health protocols against COVID-19 in their areas.
Gatot made the warning after meeting with Jakarta Metro Police Chief Insp. Gen. Nana Sudjana in Semanggi, South Jakarta.
"If there is a police chief who does not carry out community disciplinary and other agendas in an effort to cut off COVID-19 spread, just replace the person. This includes the sectoral police chiefs. If they are not serious, we will replace them and the regional police chief," said Gatot at Jakarta Police HQ, South Jakarta, Wednesday, August 12.
Gatot also called on social media activists or influencers to disseminate the health protocols such as the mandatory use of face masks in order to break the virus transmission.
Police officers were also instructed to take firm action against those spreading false news or hoaxes regarding the new coronavirus. According to Gatot, hoax spreaders must be severely punished as they caused the public neglecting preventive measures against COVID-19.
"Do not let hoax news about COVID-19 exist. Enforce the law, if there are people spreading hoaxes, detain them," Gatot underlined.
M JULNIS FIRMANSYAH