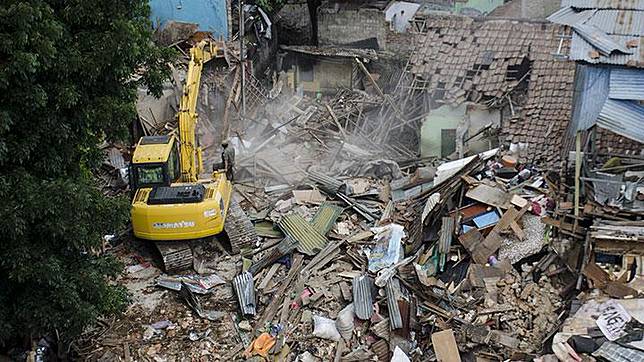 TEMPO.CO, Jakarta - Bandung Resort Police arrested at least 25 people from the solidarity group of Tamansari eviction victims in Bandung, West Java.
"We have secured 25 people and sent them to Satpol PP (Public Order Agency) for violating regional regulations," said West Java Police spokesman Sr. Comr. Trunoyudo before the press on Thursday, December 12.
According to Trunoyudo, the arrested people were accused of violating the public order during the eviction process carried out by Bandung Satpol PP. Even three of them allegedly carried weapons.
"They [the three] were brought to Bandung resort police and undergoing questioning related to weapon possessions. We collected the evidence from them," the police added.
The forced eviction carried out by Satpol PP against 33 households in neighborhood area (RW) 11 of Tamansari, Bandung City, ended in chaos. Residents and community groups fought back when a backhoe heavy equipment destroyed the remains of buildings in the area.
Residents and officials had pelted stones at each other. A number of people injured during the incident, both residents and officials.
Moreover, based on Tempo observation, some residents were chased down to Baltos shopping mall. Referred to several video footage circulating on social media, officers in police uniforms were seen attacking residents. However, no exact data yet on how many people injured in the chaos.
In response to the issue, Bandung Police Resort Chief Sr. Comr. Irman Sugema said he would investigate the repressive acts of his men against residents. "We are, firstly, investigating how it happened. Of course, Propam [police internal affairs division] are deployed. We follow it up, it will not be overlooked," said Irman.
IQBAL TAWAKAL LAZUARDI