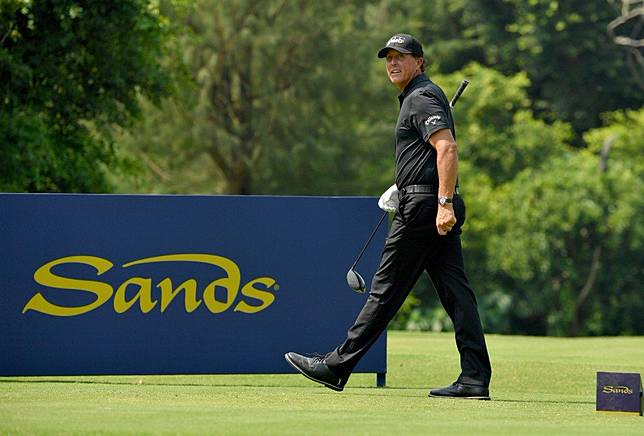 For all the optimism about the current state of his game after sweeping lifestyle changes, there was still a hint of disappointment in Phil Mickelson's voice as he discussed regrets about his health and how his form has deteriorated in recent months.
In Macau on Monday to run a Sands China junior coaching clinic with Chinese No 1 Li Haotong, the hall-of-famer spoke about his struggles and how the implementation of a new lifestyle regime - consisting of a nutritional makeover, dieting, yoga, hiking and a tough workout plan, has dramatically altered how he feels on and off the course.
"I wasn't playing well and I wasn't feeling good about myself," Mickelson said. "I wasn't recovering as fast as I wanted to after the rounds and I was feeling tired and not focused towards the end of the round. I felt that the first step in getting that back was getting in better shape - getting lighter, and what I've noticed is that I've recovered faster."
The most successful spell in "Lefty's" glittering career was during the 2000s when he secured three majors (and another in 2010) as well as four second-place finishes at the US Open. But it was during that period when some of Mickelson's unusual eating habits became well documented.
Paul Azinger recounted a story of Mickelson taking breakfast at the Ryder Cup in 2002: "I look over at Phil, and he's got a plate loaded with three waffles topped with two fried eggs. Lots of butter and plenty of syrup. And he's washing it down with a Diet Coke," Azinger claimed.
At the end of that decade Mickelson developed psoriatic arthritis, which is strongly linked to obesity.
I ended up eating poorly, I ended up drinking soda, I ended up eating sugar - I just didn't eat the way I should have and I think it led to me getting psoriatic arthritis, and I think it led to me not being overall healthyPhil Mickelson
"As I look back on my career, probably the one area that I have a little bit of regret is that I wasn't accountable for my own health," revealed the 49-year-old. "I ended up eating poorly, I ended up drinking soda, I ended up eating sugar - I just didn't eat the way I should have and I think it led to me getting psoriatic arthritis, and I think it led to me not being overall healthy.
"Now I feel a lot better about myself."
Mickelson's more recent svelte appearance has been the source of countless column inches since he announced his "hard reset" in lifestyle ahead of The Open back in July, but the transformation is startling. He fasted for six days ahead of the UK major and has maintained his regime since then, documenting his continued progress on his wildly popular social media channels.
"I feel better, I have more energy later in the round and I've recovered faster so I'm very optimistic about next year," he said.
Mickelson's on-course form is yet to turn a corner, though, and so far this season he was cut at the season-opening Safeway Open, finished 61st at the Shriners Hospitals for Children Open, and most recently managed just a tie for 31st at the CJ Cup in South Korea last week.
Unsurprisingly, Mickelson drew on the positives of his outings this term and was confident he could maintain his place in the world's top 50.
"The last two tournaments, I've seen glimpses of playing well and I've played probably two really good rounds and two so-so average rounds.
"I'm gonna go play in Shanghai (at next week's HSBC Champions event). It's a course I've won on twice, and I'm starting to play tee to green as well as I ever have. I've struggled with the putter in the last two weeks and I think that should be an easy fix. If I putt like I normally do, I think I'm gonna have a good week there."
Mickelson's outing in South Korea saw him drop three places and slip ever closer to the trapdoor of the top 50 in the world rankings (he now sits in 50th spot), but he's confident of retaining his place and keeping intact a remarkable record of 1,351 consecutive weeks in the top 50.
"I've been working hard on my game and I'm excited about playing and competing," Mickelson said. "Its been 26 years now that I've been inside the top 50 in the world rankings and I've got to play well in Shanghai in a week to continue that, and I intend to."
Copyright (c) 2019. South China Morning Post Publishers Ltd. All rights reserved.