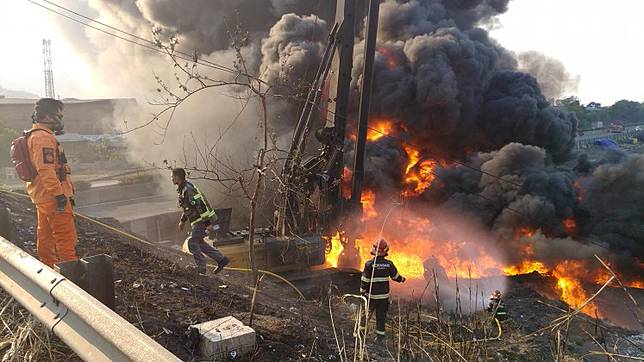 A man, believed to be a foreign worker, was killed in a major fire at an oil pipeline owned by state-owned oil and gas company Pertamina in South Cimahi, West Java, on Tuesday.
West Java Police chief Insp. Gen. Rudy Sufahriadi said the fire broke out near the construction site of the Jakarta - Bandung high-speed railway, which is located next to the Purbaleunyi toll road.
"The accident happened at 2 p.m. We are currently focusing on extinguishing the fire," Rudy said on Tuesday.
The dead victim has been identified as Li Xuan Feng, a heavy machinery operator with PT Mingshun Construction, who was working on the railway project during the accident.
A witness at the scene, who wished to remain anonymous, said the fire broke out during a drilling project.
"All of a sudden there was an explosion," the source said, adding that the explosion destroyed a car and three water tanks within a radius of 50 meters.
Pertamina communications and corporate social responsibility manager Dewi Sri Utami said the explosion occurred on a pipe that carried Pertamina Dex fuel from the Ujung Berung depot to Padalarang.
"We have stopped the fuel flow and Pertamina is currently focusing on putting out the flames and coordinating with the local fire department," she said in a statement. "Pertamina guarantees a sufficient supply of fuel in Bandung and surrounding areas." 
Dewi added that the company was still investigating the cause of the fire.
Following the explosion, toll road operator PT Jasa Marga diverted traffic away from the scene. (dpk)