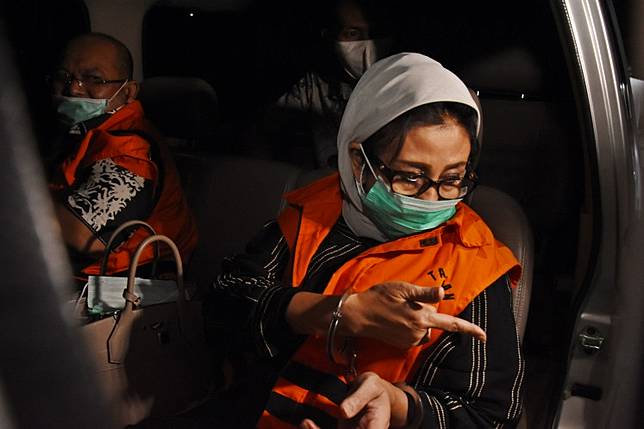 Bonnie and Clyde had made a name for themselves long before Hollywood filmed the life and death of the legendary criminal couple.
East Kutai Regent Ismunandar and his wife Encek Unguria Firgasih, speaker of the regency's legislative council, may never have intended to emulate the American pair, but the Corruption Eradication Commission (KPK) believes the East Kalimantan duo are partners in crime.
Compared with the 12 couples the KPK has brought to justice for graft, Ismunandar and Encek are a bit different. The two accumulated the executive and legislative power, which KPK chief Firli Bahuri says gave the couple a free hand to amass the wealth they needed to realize their political ambitions.
Read also: East Kutai regent, legislative council speaker named graft suspects following arrests
KPK investigators allege that Ismunandar and his wife received bribes from a contractor in a procurement project to cover Ismunandar's quest for reelection next year. Ismunandar must now forget about that bid, as the NasDem Party has dismissed him as a party member and will not nominate him. If he is found guilty, he cannot run for office anyway.
KPK investigators nabbed the two politicians and several of East Kutai's senior officials in separate operations in Jakarta, East Kutai and the East Kalimantan capital of Samarinda. A total of 15 individuals have been named suspects in the case so far.
Ismunandar and Encek flew to Jakarta ostensibly to receive an award, but a meeting allegedly to facilitate the transfer of bribe money had already been arranged. KPK investigators eavesdropped on Ismunandar for quite some time, therefore they could catch him, apparently red-handed, in a restaurant in Senayan, Central Jakarta.
There is nothing new about corruption involving regional heads and incumbents seeking reelection. Natural resources-rich East Kalimantan alone has seen a number of regional leaders face justice for graft since the KPK was established in 2002.
Corruption has indeed tainted the spirit of regional autonomy, which was a landmark product of the political reforms more than 20 years ago. The transfer of authority over most issues other than monetary, defense, foreign policy and judicial, from the central to local governments have created "little kings" who take advantage of the power to corrupt.
Read also: Vote buying threatens to undermine year-end elections: KPK
Accumulation of power in the hands of a couple as in the case of East Kutai is no doubt prone to abuse. As the KPK has found, Encek as representative of the legislative council approved projects proposed by the regent, her husband Ismunandar, who then selected contractors from among their cronies. Any hope of a checks-and-balances mechanism working in such a political landscape is surely unfounded.
Democracy, unfortunately, allowed Ismunandar and Encek to take office. The challenge is mounting on the government and the House of Representatives to consider revising the electoral laws to stop nepotistic practices from undermining democracy. Lest we forget, the reform movement clearly mandated the eradication of nepotism and collusion, as well as corruption.
With the December local elections drawing nearer, the commitment of political parties to eradicating corruption will face its greatest challenge when selecting regional head candidates.