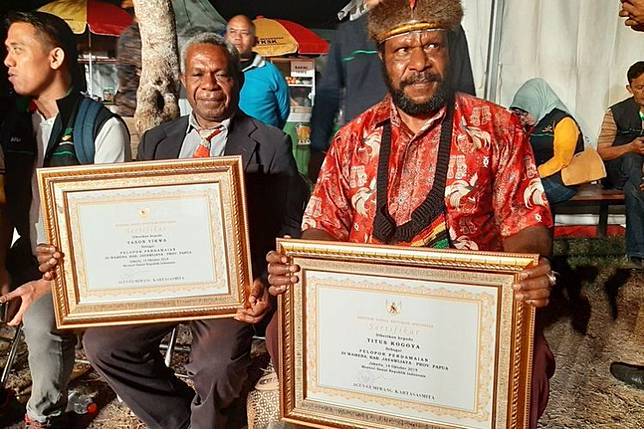 Two native Papuans have been awarded Pelopor Perdamaian (Pioneer of Peace) awards for their roles in saving the lives of non-native Papuans during the bloody unrest in Wamena, Jayawijaya regency, Papua, late last month.
Pastor Yason Yikwa and Titus Kagoya, a civil servant from Tolikara regency, received the awards handed over by Social Affairs Minister Agus Gumiwang Kartasasmita during a ceremony held in Prambanan temple complex in Yogyakarta on Wednesday.
Yason sheltered more than 500 non-native residents inside the Panorama Baptist Church complex as well as inside an orphanage and the office of the orphanage's foundation in Phike, Hubikiak district in Jayawijaya, when the riot broke out on Sept. 23. 
"There were people coming after them and I said 'don't touch them, much less hurt them, you better kill me instead of hurting them'," the pastor said as he recalled his experience.
He said the mob then left the complex and the non-Papuan residents, most of whom had their houses and shop-houses burned by the rioters during the unrest, were safe as they took shelter there. 
Titus, meanwhile, helped non-native residents with other young people by cutting down trees to block the road leading to Mawampi village in Wesaput district, Jayawijaya to prevent the mob from wreaking havoc in the village. 
"We put [the trees] down in the middle of the road so that no outsiders could get in," he said. 
With the help of his younger brother, Kagoya then asked the non-native Papuans to hide inside the village. He even provided his house as a hiding place, which sheltered around 80 people coming from Toraja in South Sulawesi, Madura, and Java. 
Titus stood guard outside the village with other young men to prevent the mob from getting in.
The turmoil that occurred on Sept. 23 saw mobs, reportedly comprising native Papuans, setting hundreds of buildings, houses and cars on fire and violently attacking residents. At least 33 people, mostly non-native residents, were killed during the riot. 
Thousands of Wamena residents feared for their safety following the violence and sought shelter at the military and police headquarters, among other places, while over 15,000 non-native Papuans fled the province and returned to their respective hometowns outside the country's easternmost region.
Agus applauded Yason and Titus' efforts in saving the lives of the non-native Papuans and called them both "heroes". 
"They helped people regardless of ethnicity, religion and race; they were even willing to sacrifice their lives for the people's safety," the minister said.