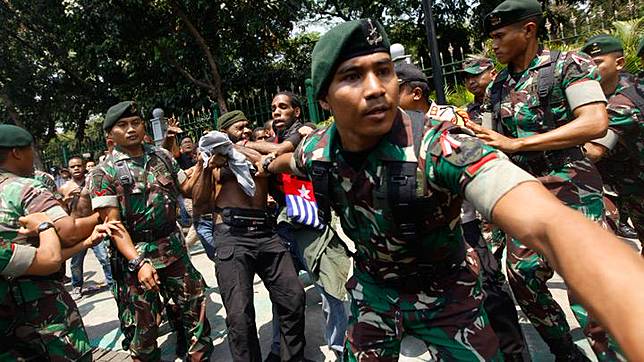 TEMPO.CO, Jakarta - Papuan students across the country have allegedly experienced 33 human rights violations since 2018, according to Director of Legal Aid Institute (LBH) Jakarta chapter Arif Maulana.
Arif said LBH had been acting as the companion of the students in the 33 cases. As for the detail, Surabaya saw nine cases, Papua eight, Bali five, Jakarta four, and Yogyakarta three cases.
"The types [of violations] include intimidation, dorm raids, dissolution of discussions, dorm attacks, arbitrary arrests, and the omission of law violations by the authorities," he said in a press conference at LBH Jakarta office, Thursday, August 22.
He said the number of the victims reached 250 students, while the alleged perpetrators were members of the military (TNI), national police, public order enforcer (Satpol PP), state officials, and mass organization.
The violations showed that the country has yet to protect its people and prioritize human rights values. In addition, the violations were committed by the state apparatus.
Following the massive human rights violation against Papuan students and the recent racist treatment in Surabaya, LBH urged the government to enforce the law to the perpetrators. Arif said this cannot be settled just by conveying apologies to each other.
"We afraid that it will repeat [in the future] if there is no enforcement action has been taken against these violations," Arif said.
Ahmad Faiz Ibnu Sani