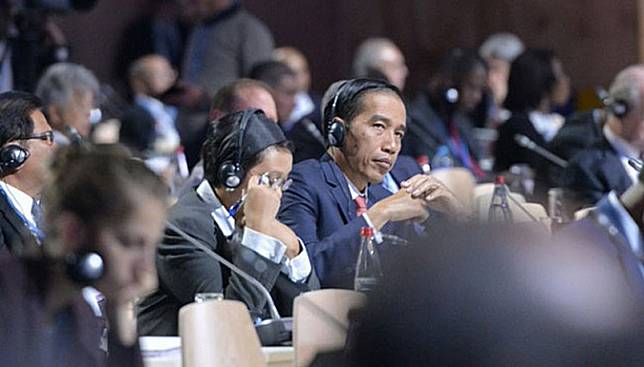 President Joko "Jokowi" Widodo has decided to skip, again and again, a crucial annual global forum in New York. It is very hard this time to accept the President's excuse and to let others, such as the outgoing Vice President Jusuf Kalla, act on his behalf once more.
For two years until December 2020, Indonesia serves as a nonpermanent member, for the fourth time, of the United Nations Security Council (UNSC). All the energy and time of our diplomats, led by Foreign Minister Retno LP Marsudi, expended to gain the prestigious position may mean almost nothing, when their boss remains reluctant to show appreciation for their efforts and speak up more at the global level. Indonesia is too important to ignore or belittle its international role and responsibilities.
The President cited "much more urgent domestic issues" as his reason to skip the sitting of the UN General Assembly for the fifth time. The rampant forest fires in Riau, Jambi and Kalimantan are likely to continue to choke millions of people even if he stays here next week. The brouhaha around the Corruption Eradication Commission (KPK) would not worsen just because he is momentarily out of the country. Maybe he is thinking there will possibly be angry reactions, since many of those who should be in charge of alleviating the smog in Sumatra have gone on trips while their people have had to endure the deadly disaster. Look at Riau Governor Syamsuar, who is on a visit to Thailand, and Pekanbaru Mayor Firdaus, who is travelling to Canada.
Jokowi's decision to be absent from the New York meeting is ridiculous because he will again lose an opportunity to promote Indonesia's much needed presence in the world. Jokowi has become internationally known as a very inward-looking leader in terms of global politics with little appetite for foreign affairs policy-making, unlike his six predecessors.
The President has reportedly stubbornly refused repeated suggestions from Retno, his chief diplomat, to attend the General Assembly's 74th session, which she especially urges as Indonesia is now a nonpermanent member of the Security Council.
"The President still declined to go because for him domestic problems are still much more urgent to face," a senior official told The Jakarta Post last week. This is very frustrating for Indonesian diplomats. They believe Jokowi's attendance at such an important meeting will definitely help to boost Indonesia's status at the global level.
Therefore, for the President's own good and for the sake of Indonesian diplomacy he needs to humble himself by shedding his rigid stance.
Until now, Indonesia has been the only predominantly Muslim nation that has been able to maintain its democracy despite all shortcomings. We needed less than two decades to establish our nation as the world's third-largest democratic country after India and the United States. Indonesian Muslims may indeed be becoming more intolerant, but there is also rising intolerance now in the US and Europe.
As the President does not need to apply for an ordinary visa to go to the US and also because he has a special plane that is ready anytime he wants to travel, he could still change his mind. However, time is very limited, so he needs to call his foreign minister: "Ibu Retno, please arrange my visit to New York next week."
Several ambassadors from industrialized countries shared the same opinion that President Jokowi is too focused on domestic issues. "Your President should go out and see the world," an envoy told me last week.
Former president Susilo Bambang Yudhoyono was very lucky with his decision at the very last minute to drop his intention to promote his successor during his final appearance at the UN five years ago. Otherwise it would have been an embarrassment for Yudhoyono because Jokowi has still refused to attend the annual global gathering for the whole of his first presidential term.
On Sept. 24, 2014, Yudhoyono almost announced that Jokowi was his successor when he addressed the General Assembly, which I covered. He had initially agreed with the suggestion of his top aides, including then coordinating minister for the economy, tycoon Chaerul Tanjung, to demonstrate Indonesia's achievement of having its second directly elected president after Yudhoyono. Yudhoyono changed his mind for unclear reasons.
"I do believe that with strong commitment and political will, we can make the impossible possible. As we say in Indonesia […], 'Where there is a will, there is a way'," Yudhoyono said to the applause of the audience. Jokowi clearly lacks commitment and political will on foreign affairs.
Indonesia was selected for the fourth time to be a nonpermanent member of the UNSC in June 2018 along with Germany, South Africa, Belgium and the Dominican Republic. The two-year tenure will last until December 2020.
Indonesia previously held the same position from 1974 to 1975, 1995 to 1996 and 2007 to 2008. The country will become the UNSC president in May 2019 and in August and September 2020. There is still time for our President to take up the opportunity, not only to show off Indonesia's place on the global stage, but more importantly to assert the responsibility that comes with it.