Soldiers of the People's Liberation Army Hong Kong Garrison paid their respects at a memorial to those who died defending the city during the second world war, days before the 88th anniversary of Japan's invasion of northeastern China.
The official WeChat account of the PLA's Southern Theater Command, which revealed the news on Thursday, did not mention the exact date of the visit to the cenotaph at Tai Po's Wu Kau Tang.
The soldiers laid wreaths before the Monument for Martyrs Against Japanese Militarism and sang military songs. A source from the garrison said the visit occurred earlier this month.
The report came hours after state media Xinhua issued a commentary condemning acts of vandalism at the monument.
On Thursday, Lam Chun, president of the Society of Veterans of the original Hong Kong Independent Battalion of the Dongjiang Column, also said she spotted slogans such as "anti-extradition bill martyrs" spray-painted on the memorial two days earlier.
The Xinhua commentary stated: "Such shameless acts of insulting martyrs is deplorable and outrageous … It will come before the trial of history.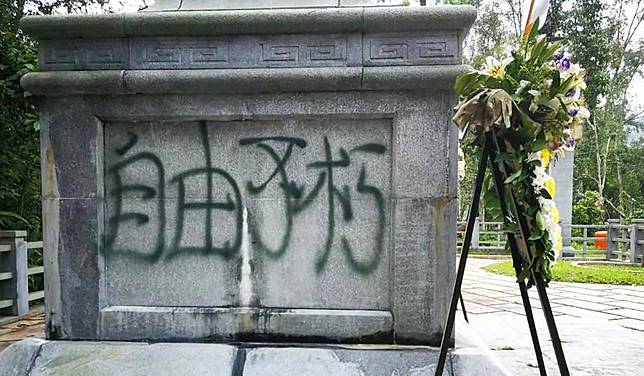 "The thugs are a bunch of people who forgot their ancestors. What they did amounts to a blatant challenge to the conscience of the Chinese people around the world."
Another commentary published on the website of state-run People's Daily on Wednesday also lashed out at those who vandalised the monument, adding that many young people in Hong Kong lacked understanding of Chinese history.
Wednesday marked 88 years since Japanese forces were responsible for an explosion close to a railway near modern-day Shenyang. The Japanese Imperial Army then staged a full-scale invasion of northeastern China, at the time known as Manchuria.
In August 2015, the monument, which was erected in 1951, was named one of the historic sites of the second world war by the State Council. It is the only location in Hong Kong to feature on the council's list of historical sites.
Lam, who joined the Hong Kong and Kowloon Independent Brigade in 1943, is the youngest of nearly 60 surviving veterans of the group.
"The vandalism is an insult to martyrs who sacrificed their lives to defend Hong Kong. It also hurts the dignity of our nation," she said.
She urged police to bring those responsible for the damage to justice.
The brigade was the local branch of the East River Column, a guerilla force put together by the Chinese Communist Party to fight the Japanese during the second world war.
Copyright (c) 2019. South China Morning Post Publishers Ltd. All rights reserved.