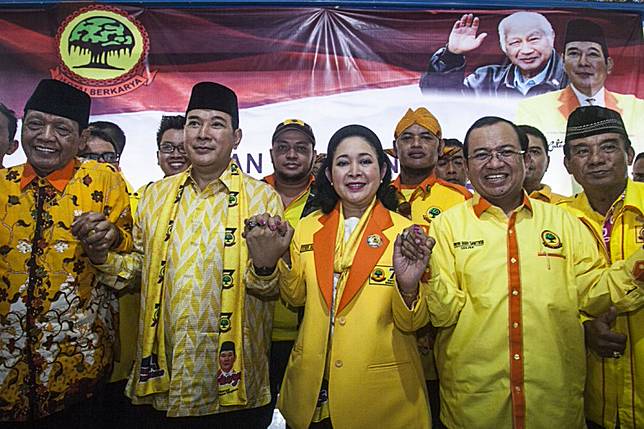 High-ranking figures from the Berkarya Party, including two children of former president Soeharto, are to attend a meeting with leaders of the Prosperous Justice Party (PKS) on Tuesday afternoon, a spokesperson for PKS has confirmed.
"Among the leaders of the Berkarya Party who will be involved in the meeting include [Tommy] and Titiek Soeharto," PKS spokesperson Ahmad Fathul Bari said as quoted by kompas.com.
Fathul was referring to the respective nicknames of Hutomo Mandala Putra, who chairs the Berkarya Party, and Siti Hediati Hariyadi, who chairs the party's advisory board.
Other Berkarya politicians who had confirmed their attendance at the meeting, slated to take place at PKS headquarters in South Jakarta, are honorary board chief Tedjo Edhy Purdijatno, secretary-general Priyo Budi Santoso, deputy chair Hasib Wahab and deputy chair Yayat Sudrajat.
Fathul, however, stopped short of providing further details on the agenda for the meeting.
Separately on Thursday, the Islamic Party revealed that PKS chairman Sohibul Iman and Tommy planned to meet sometime this week.
Islamic Party secretary-general Mustafa Kamal said earlier that the PKS planned to communicate with a number of parties outside the ruling coalition over the next few months to "hear about their positioning" as regards the new government of President Joko "Jokowo" Widodo.
PKS, which came sixth in the 2019 legislative election and currently ranks among the country's mid-tier parties, has asserted its opposition stance to the next five years of the Jokowi administration.
PKS and Berkarya were among the coalition of parties that backed the presidential bid.of Prabowo Subianto, who is Titiek's ex-husband.
After his electoral defeat, however, Prabowo and his Gerindra Party joined Jokowi's big-tent coalition, thereby weakening the opposition in the House of Representatives.
Tommy founded Berkarya in 2016, when he left the Golkar Party – his father's political vehicle – after his failed bid for the party chairmanship. His sister Titiek followed suit in 2018 to join Berkarya, which has leaned heavily on its image as the scion of the New Order.
In the general election on April 17, 2019, Berkarya garnered 2.9 million votes, or 2.09 percent of the national vote, falling short of the 4 percent threshold for a House seat. (afr)