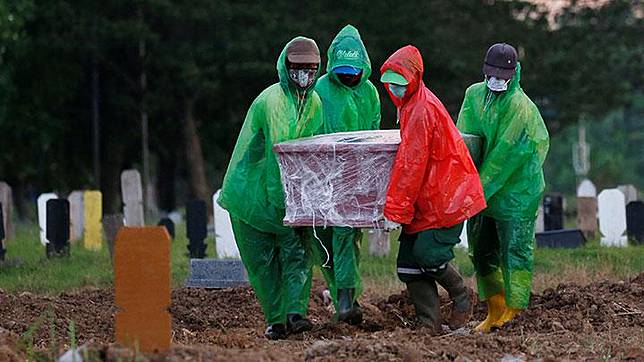 TEMPO.CO, Jakarta - JakartaCOVID-19 mitigation task force reported via corona.jakarta.go.id that the number of bodies buried under the safety protocols in the capital city reached 4,041 as of August 13, 2020, since the first cases were discovered on March 6, 2020.
From earlier August to date, there were 346 funerals carried out following the special protocols. The highest daily figure was recorded at 40 funerals on Monday, August 10, followed by 39 funerals on Sunday, August 2.
The figure skyrocketed from the previous month. Throughout July, the highest number of burials under the coronavirus protocols per day reached 30, while the average ranged from 12 to 27.
The city's official page also published that the all-time daily high in the burials was 54 on April 8, 2020.
There was a high gap between the report of funerals under the safety procedure and the COVID-19 mortality rate in Jakarta per August 12, which was 968 patients. Meanwhile, the virus death toll from suspected cases hit 2,258, from the probable cases 853 patients, and one case from discarded cases.
Jakarta Governor Anies Baswedan had once explained that the funeral under the safety protocols is carried out for positive patients, suspected patients who already underwent the virus test yet the result had not yet come out, or those people who had not been tested yet presented virus symptoms.
Read also: COVID-19 Transmission Soars; South Jakarta Mayor: Quite Critical
TAUFIQ SIDDIQ