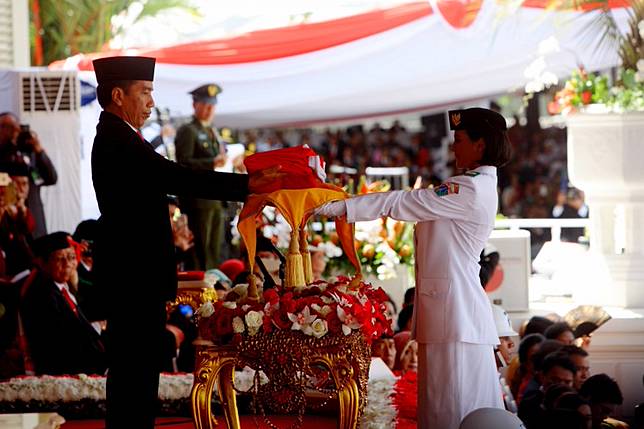 The dozens of students from across Indonesia marching in step for the national flag-hoisting ceremony will be absent from television screens this year as the government has cut the flag bearer team to only eight members.
In the traditional formation before the pandemic, 68 national flag bearers (Paskibraka), representing the country's 34 provinces, would hoist the Merah Putih (red and white) flag at Merdeka Palace in Central Jakarta on Aug. 17.
On Thursday, President Joko "Jokowi" Widodo officiated the eight students, all members of last year's Paskibraka team, to send them off for Indonesia's 75th Independence Day ceremony on Monday.
"May God the Almighty give you grace and ease in carrying out this duty for the country," Jokowi said during the inauguration ceremony, which was live-streamed on the Presidential Secretariat's YouTube channel.
The eight Paskibraka members are high school students from eight provinces:
They include Indrian Puspita Rahmadhani from senior high school SMAN 1 Bireuen in Aceh, I Gusti Agung Bagus Kade Sangga Eirav Adhita from SMAN 1 Mendoyo in Bali, Sudrajat Prawijaya from SMAN 4 Rejang Lebong in Bengkulu and Muhammad Arief Wijaya from SMAN 2 Kendari in North Sulawesi.
They also include Muhammad Asri Maulana from SMAN 1 Kandangan in South Kalimantan, Dhea Lukita Andriana from SMAN 1 Ngunut Tulungagung in East Java, Muhammad Adzan from MAN 2 Bima in West Nusa Tenggara and Sylvia Kartika Putri from SMA Kartika 1-4 Pematang Siantar in North Sumatra.