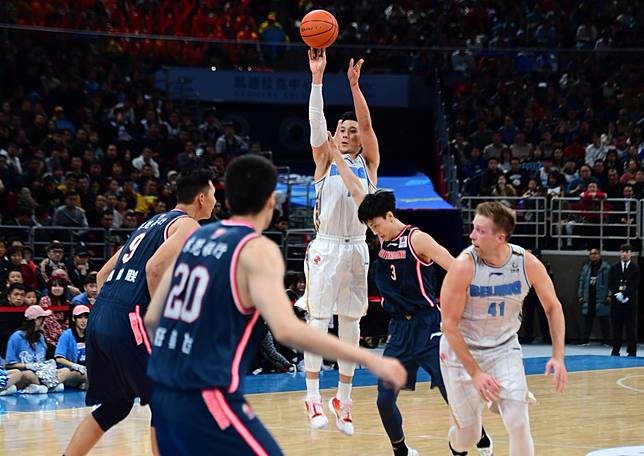 Jeremy Lin's Beijing Ducks edged the Shanghai Sharks by a point when the teams met on Saturday night in the Chinese Basketball Association.
Lin scored a CBA-career low 13 points under intensive defence in the 88-87 win in Shanghai that took the Beijing side to 15-2 for the season. He was fouled 10 times, more than any other player on either side, in the win.
It could have been different when Rob McClain Jnr stepped up to the free-throw line with seconds left but the former Sacramento Kings player only hit one of his throws to ensure a victory for the Ducks after their shock loss to the Fujian Sturgeons midweek.
Lin was not at his best in Shanghai on Saturday night, finishing with 13 points, six rebounds and seven assists at the Pudong Yuanshen Gymnasium. His performance was greeted with questions about his ability to lead an offence in Chinese media.
He only scored three in the first quarter as a slow-scoring game struggled to ignite but the Ducks led at the end of the first quarter and again at the half.
They led again at the end of the third before a Sharks rally saw them take the lead 79-78 in the final quarter before going five points ahead.
Lin's teammate Ekpe Udoh then helped the Ducks back into the game taking the lead with 12.3 seconds on the clock.
That was followed by a foul by the Ducks' Fang Shuo sending McClain to the charity line but the visitors got away with the win to make it five in a row away to the Sharks.
The teams met on the opening night of this season with Beijing winning 94-88. The Ducks play the under fire Zhejiang Lions on Tuesday before hosting the other Zhejiang side, the Golden Bulls later in the week.
Lin, who won the NBA championship with the Toronto Raptors last season before leaving for China in the summer, gave his game-worn shoes and a New York Knicks' Lin jersey to a fan after the win.
His NBA career began with the New York side during the "Linsanity" breakout period of 2012.
Copyright (c) 2019. South China Morning Post Publishers Ltd. All rights reserved.