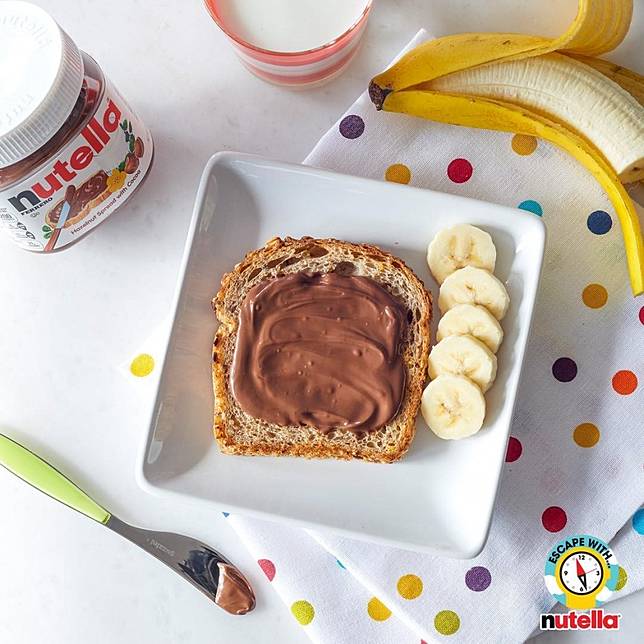 A year's production of Nutella would wrap around the Earth 1.7 times - but where does the chocolate spread come from?
Many chocolate fans around the world are addicted to the popular cocoa and hazelnut spread Nutella, and most people have tried it at least once in their lifetime.
Most people on this side of the globe might know it as the sweet filling inside the gold-wrapped Ferrero Rocher truffles, while our Western counterparts might have used it as a sweet dessert or breakfast spread.
According to the Ferrero group which launched it in 1964, if all Nutella jars produced in a year were lined up they'd make a row 1.7 times the Earth's circumference and the total weight of the spread would equal that of the Empire State Building.
But it wasn't born as a spread. Initially, in 1946, Nutella was less creamy and shaped as a tender bread loaf called "Giandujot" after a popular carnival mask, Gianduja, symbolising the cheerfulness of the northern region of Piedmont.
It was wrapped in aluminium foil and cut into slices. It was semi-solid, like butter, and required the use of a knife to cut it before it could be eaten. Mothers would send their children to buy the famous panetto - aka little chocolate bread.
The revolution occurred several decades later when the recipe was improved, made softer and creamier, and the first glass jar of a new hazelnut and cocoa cream was released under the Nutella name.
It was much easier to spread than previous chocolate loaves, so could be savoured immediately. Nutella became an essential ingredient in Italian households, similar to pasta and espresso.
Consumers love the iconic jars, cups and glasses, whose designs have evolved down the years, and become prized collectors' items. Once the contents were finished, people chose to keep the jars as containers or drinking glasses rather than throwing them away.
The jar and the velvety creamy spread have remained at the centre of Ferrero's winning marketing strategy to this day. Today Nutella is made with hazelnuts and features ingredients such as milk, vanillin and palm oil, of "an excellent quality" and solely made with freshly pressed fruits that gives it its signature creamy texture, according to the Ferrero group.
Ferrero's idea of mixing hazelnut and cocoa to alleviate the shortage of cocoa after World War II (albeit into a new spread recipe served in a jar, something nobody had done before) had been tested in the early 1800s.
Turin was renowned as Europe's chocolate capital since the 1500s when royal pastry chefs concocted the most exquisite confectionery for the court of the kings of Savoy.
When Napoleon Bonaparte conquered northern Italy and declared war against Britain in 1806 he introduced an embargo on all English-imported goods including cocoa, so Italian pastry makers had to turn to what grew in abundance in the surrounding pristine Langhe hills, part of today's Unesco-listed World Heritage Site.
They resorted to a premium variety of hazelnuts which they added to the little cocoa they could find to create a dense rich paste, Gianduia, named after the carnival mask, a perfect name for a treat that satisfies the gourmet pleasure-seeking nature of locals.
The paste was eventually used by Caffarel chocolatiers to make Turin's iconic tiny rectangular chocolates called Gianduiotti, shaped like a topsy-turvy boat, which were handed out to the public during the 1865 carnival by actors dressing a Gianduia mask. The shape of the chocolate was also said to resemble the cut of Gianduia's hat.
"We've been making Gianduia paste for centuries, mainly as an ingredient in patisseries particularly for cake fillings or toppings, to enhance our creations, says Giovanni dell'Agnese, third-generation pastry chef at elite Turin pastry shop Pasticceria Dell'Agnese.
"Before Nutella it wasn't an actual spread, a product on its own, nor was it sold in a jar though perhaps families did eat it sliced on bread. Gianduia is denser than Nutella, with a more delicate taste, and the main difference is that we use up to 55 per cent of premium local hazelnuts, sugar and cocoa. No other ingredients, no palm oil, no preservers."
Nutella uses just 13 per cent of hazelnuts, and not all are local but come from the Mediterranean area and as far away as Turkey.
Gianduia remains a niche artisan product. "In the old days women dubbed 'gianduiere' would sit around a table with the gianduia paste in the middle and with two knives they'd cut the paste and shape it into 100 gram gianduiotti. It was a real job", recalls Dell'Agnese.
"We've tried to pursue this artisan, handmade tradition as opposed to Nutella which is a great commercial brand, but still a commercial one. And our ingredients are local and premium, while Nutella, well just read the labelling."
"But Ferrero had the great idea to make the cocoa and hazelnut totally spreadable and put it inside a jar, selling it not as a confectionery ingredient but as a confectionery product. That was genius".
Following Nutella, most Gianduia paste producers started honing it into a spread of their own and selling it in jars, too, but it's a sophisticated product.
The Gianduia spread at Dell'Agnese (sold in a little jar) costs Euro14 (HK$121) for 250 grams, as opposed to Euro2.69 for the same quantity of Nutella. "The Langhe's 'round and genteel' hazelnuts are expensive today, they have been included in a prestigious group of protected territorial products so their price is much, much higher than it was back in the 1800s", says dell'Agnese.
He also makes Gianduia ice cream, tartufate Gianduia cakes and cream, and handmade Gianduiotti. "The real Gianduiotto, due to the hazelnut, melts before ordinary chocolate. So as soon as you pop it in the mouth it should melt, enveloping the whole palate with a lingering, unique flavour."
The best Gianduia spreads are those with the highest concentration of local hazelnuts, which also makes them the most expensive.
According to Valeria Feggi of top Italian chocolate group Domori and cocoa teacher at the International Institute Chocolier, "the more the hazelnut, the more it's creamy so if there's a small amount of it you need to compensate with vegetable oils such as palm oil, as in the case of Nutella". Domori's Gianduia spread contains 48 per cent hazelnuts and sells at Euro12 for a 200 gram jar.
Dell'Agnese makes two different Gianduia spreads: one with more dark chocolate for those who don't particularly like hazelnuts, and one with more hazelnuts for Gianduia addicts.
Want more stories like this? Sign up here. Follow STYLE on Facebook, Instagram, YouTube and Twitter .
Copyright (c) 2019. South China Morning Post Publishers Ltd. All rights reserved.