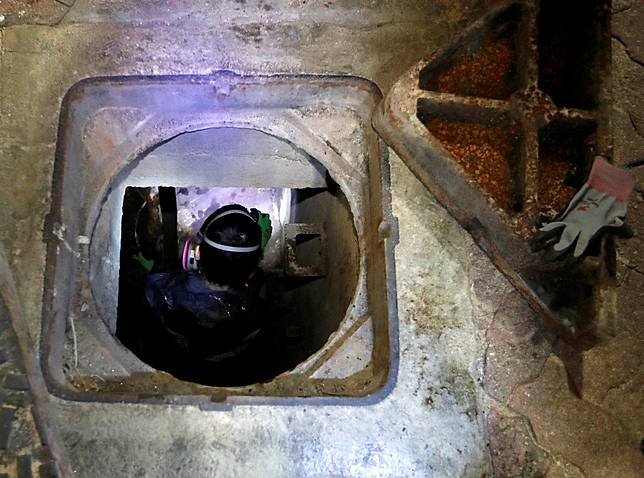 Jumping into sewers, abseiling to a highway from a footbridge and climbing over walls - desperate radicals inside a Hong Kong university have done all they can to escape from police besieging the campus.
Only a few dozen people, including social workers and first-aid volunteers, were believed to be still inside Polytechnic University on Tuesday evening, after police blocked all exits from the Hung Hom campus on Sunday evening following a day of extremely violent clashes.
That was a much smaller crowd than Sunday, and according to police as of Tuesday afternoon about 1,100 had been arrested or surrendered.
In the early hours of Tuesday, several people were seen jumping down an underground tunnel through a manhole inside the campus in a bid to escape. But only about 10 minutes later, they climbed back out from another manhole.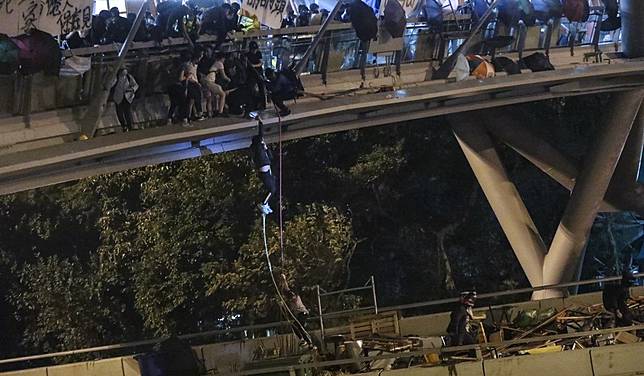 "It was disgusting inside the drains," one masked man said. "We resorted to doing so because we did not know how to seek help from the outside world.
"But even if we managed to do so, I don't think they would be able to help us. What else can we do?"
Some radicals had already discussed escaping through manholes on Monday night. One estimated it could take two hours to reach the end of the tunnel system in Hung Hom and get out, admitting that the move could be life-threatening because of the possible harmful gas underground.
It remained unclear how many in total had tried to escape through this channel. But firefighters conducted a search inside the systems on Tuesday morning and found no one.
Police have been calling on those inside the campus to surrender and exit the campus peacefully through police checkpoints, though those that do run the risk of being arrested for rioting offences, which can bring a maximum penalty of 10 years in jail.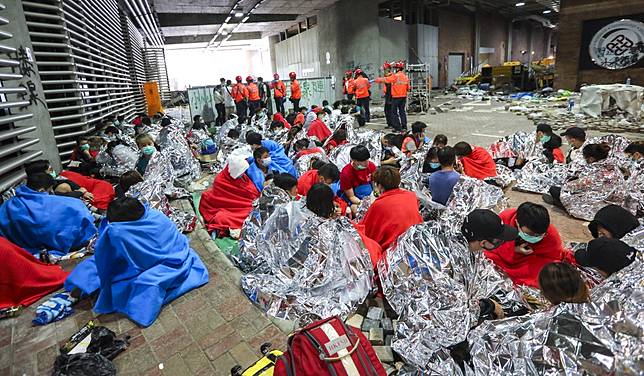 But, under deals that education figures and politicians secured with the police, those under the age of 18 would be allowed to go home after their personal information had been recorded by officers.
However, they could still be charged for rioting offences in the future.
In dramatic scenes on Monday night, dozens of radicals descended about seven metres down ropes from a campus footbridge onto a highway, and were picked up by motorcycles waiting below.
Riot police arrived soon afterwards and fired tear gas, arresting several as they tried to escape.
Throughout Monday night, and into the early hours of Tuesday, dozens of protesters were seen running from one side of the campus to another side to look for gaps in police's defensive lines.
Some climbed over campus walls to escape through Chatham Road South, but none appeared to succeed.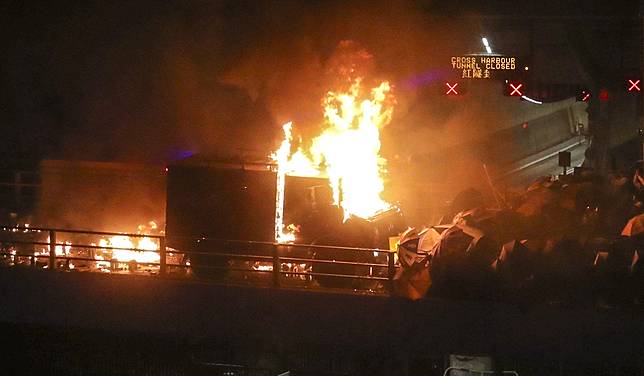 Eric, an 18-year-old student who has been on campus for three days, had been looking for secret passages out without getting arrested.
"We won't turn ourselves in; that's basically confessing our loss," he said. "We will just hide, or maybe just lock ourselves in some rooms."
He has slept only five hours for the past three days as he has been constantly looking for ways out, while staying on high alert in case police enter the campus.
During the violent clashes on Sunday, radical protesters threw a large number of petrol bombs at police, who responded with tear gas and water cannons. Footbridges were set on fire as crowds tried to block officers.
A police armoured vehicle at a flyover next to the campus was set on fire. The driver had to put the vehicle in reverse, rumbling away from the crowd as they pelted it with petrol bombs.
Copyright (c) 2019. South China Morning Post Publishers Ltd. All rights reserved.