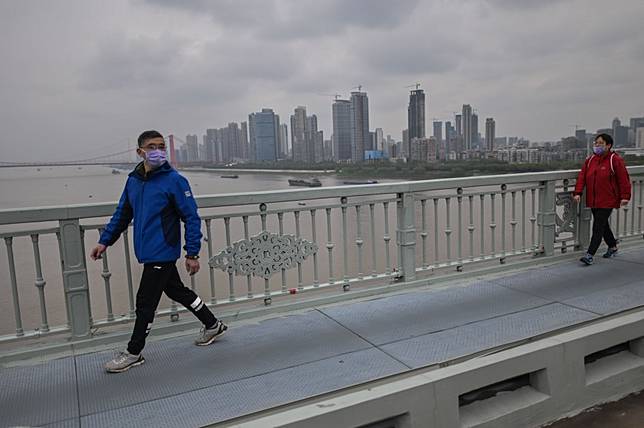 A top Chinese health official sought to allay growing fears over asymptomatic coronavirus carriers on Monday, saying there was "no evidence" they could spread the illness but medical workers should remain alert to the risk.
Lu Jinxing, from the Chinese Centre for Disease Control and Prevention (CDC), made the remarks in an interview with state broadcaster CCTV amid rising public concern over people who contract the virus but show no immediate symptoms - a condition typically known as asymptomatic.
It is still not clear what role asymptomatic transmission is playing in the global pandemic. But the South China Morning Post reported earlier that as many as one-third of those who test positive could be "silent carriers" with delayed or no symptoms.
Classified government data seen by the Post showed more than 43,000 people in China had tested positive for Covid-19 by the end of February but had no immediate symptoms. They were quarantined but not included in the official tally of confirmed cases.
Lu told the state broadcaster: "We have observed a great number of asymptomatic cases and found that people had a relatively long duration of viral shedding," referring to the rate at which an infected person "sheds" the virus.
"In terms of whether they are infectious, we have not done detailed studies so far," Lu said. "There is no evidence that they can spread the virus, but there is still a potential risk."
Lu is party secretary of the CDC's National Institute for Communicable Disease Control and Prevention and also a leading researcher on pathogens.
Public fears were heightened on Sunday after officials disclosed the case of a 59-year-old woman in Henan province who contracted Covid-19 after she had contact with a doctor who was an asymptomatic carrier.
Henan's health commission said the doctor in Luohe had tested positive last week after the hospital where he worked put all medical staff through a check-up, including testing for Covid-19, as it prepared to reopen to non-virus patients.
Asked if asymptomatic carriers could become a source of new local infections, Lu said the risk was lower in Wuhan - where the first cases of the virus were reported in December - than other parts of the country because it had been locked down for a long time.
"Wuhan has been under such a lengthy lockdown and restrictions, much longer than the 14-day incubation period we often talk about. So if there was an infection outbreak caused by (asymptomatic cases) this problem would have emerged earlier," he said.
"But we can't rule this out completely - and we shouldn't lower our guard in monitoring this," he said.
The health official also said residents were advised to wear face masks and avoid crowded places when the lockdown in Wuhan ended on April 8.
"Ordinary or surgical masks are enough - it's not necessary for everyone to wear N95 masks or more advanced ones," he said, referring to the top-of-the-line face masks.
Other state media outlets also weighed in on asymptomatic cases.
Communist Party mouthpiece People's Daily ran an editorial on Monday calling for health authorities to address public unease by improving transparency and not concealing information. It also called on the government to respond to calls for asymptomatic cases to be included in the official tally of confirmed cases - at present only those with symptoms are included.
Meanwhile, Shanghai-based official newspaper Jiefang Daily questioned in an editorial whether there had been a cover-up by Henan authorities over the asymptomatic doctor.
"With the hidden risk all around us, the authorities should make the situation clear to the public, not conceal it," the editorial said.
On social media platforms like Weibo, worried Chinese are calling for "facts" about asymptomatic cases, saying they do not want a second wave of infections. Local infections have slowed almost to a halt in China, but the country continues to battle the threat of imported cases. Globally, more than 729,000 people had been infected as of Monday, with over 34,000 deaths.
Purchase the China AI Report 2020 brought to you by SCMP Research and enjoy a 20% discount (original price US$400). This 60-page all new intelligence report gives you first-hand insights and analysis into the latest industry developments and intelligence about China AI. Get exclusive access to our webinars for continuous learning, and interact with China AI executives in live Q&A. Offer valid until 31 March 2020.
Copyright (c) 2020. South China Morning Post Publishers Ltd. All rights reserved.