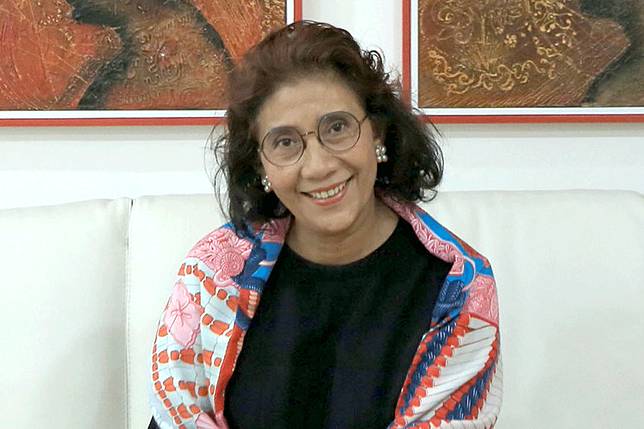 Susi Pudjiastuti, one of the most popular members of President Joko "Jokowi" Widodo's first-term Cabinet, once again rocked the social media world after taking to Twitter on Wednesday to congratulate her successor, signaling the end of her term as maritime affairs and fisheries minister. 
Tweeting from her official account @susipudjiastuti, Susi congratulated the new members of Jokowi's new Indonesia Onward Cabinet, including Gerindra Party politician Edhy Prabowo, who had been assigned to take over her position. 
Selamat atas Pelantikan Kabinet Indonesia Maju, Semoga Indonesia Semakin Maju, Makmur & Sejahtera dibawah Kepemimpinan Bapak Joko Widodo & KH Ma'ruf Amin. 👏👏👏🙏🙏🙏🇲🇨🇲🇨🇲🇨🇲🇨

— Susi Pudjiastuti (@susipudjiastuti) October 23, 2019
Sent at 11:10 a.m. on Wednesday after Jokowi officially swore in 38 ministers for his second and final term, has garnered more than 56,000 likes and more than 7,000 replies from Twitter users, most of whom expressed their sadness that she did not retain her post.
Twitter user @ybrap expressed his gratitude to the former minister for protecting the country's waters and actively encouraged Indonesians to consume more fish. He also urged her to have a well-deserved rest after five years of serving the government.
She's not just protected the sea for 5 years. but she influenced us to eat fish, and love our sea as well. I get influenced. I bet you too. You're still the Queen @susipudjiastuti. Thank you, bu Susi. Selamat istirahat!🧜🏼‍♀️🦑🦐🦞🦀🐡🐠🐟🐬🐳🐋🦈🌊

— YB (@ybrap) October 23, 2019
Another Twitter user, @qnafess, tweeted, "Who feels brokenhearted because [Susi] is not in the new Cabinet? No Susi, no party," attached to picture of Susi laughing at what appears to be an official meeting.
Siapa yg merasa patah hati karna beliau tidak di kabinet baru ? No susi no party [QnA] pic.twitter.com/GdMOu0pIAu

— QnAfess (@qnafess) October 23, 2019
According to a poll by Alvara Research Center released last week, Susi tops a list of favorite ministers in Jokowi's first-term Cabinet with 91.95 percent of respondents expressing their satisfaction with her performance as maritime affairs and fisheries minister.
The survey, which was conducted from Aug. 12 to 31 and involved 1,800 respondents, found that Susi was adored by the public because of her bold leadership style and her bravery, kompas.com reported.
Susi is known for being a no-nonsense leader in terms of fighting against illegal fishing as she spearheaded Jokowi's first-term administration's tough measures of sinking any boats caught fishing illegally in the country's waters.
Under her watch, Indonesia has sunk more than 500 illegal fishing vessels since she took office. Susi unabashedly shows off her unconventional personality by openly sporting tattoos and regularly smokes cigarettes, inspiring pop culture references and memes that dubbed her as one of the Cabinet's coolest minister.
A character inspired by Susi appeared in the Dec. 13, 2016, issue of the legendary Japanese comic book Golgo 13, the oldest manga still in publication.
After being inaugurated on Wednesday, Edhy arrived at the Maritime Affairs and Fisheries Ministry headquarters in Central Jakarta for a handover ceremony with Susi. In her speech during the event, Susi said Edhy was no stranger to her and she believed that he could lead the ministry well.
"The Maritime Affairs and Fisheries Ministry has been my passion for the last five years. My love, my hard work, all will be continued by Pak Edhy," Susi said as quoted by kompas.com.
Edhy, meanwhile, said he would continue and strengthen all the work that Susi had done during her term. 
"We will make improvements," he said.
Despite the cordial handover, Edhy's appointment was slammed by critics who said that the post should have gone to a professional instead of a politician. 
 "The ministry, which handles the country's fisheries and food production, must be led by a professional who understands the problems of fish production from the grassroots level to national policies," Indonesian Fisherman Association (KNTI) chairman Marthin Hadiwinata said in a press statement.
He also voiced his concerns that the ministry was being used as a political transaction between Jokowi and Gerindra, a former opposition party that has joined the President's second-term Cabinet and now holds two ministerial posts.
"If [the ministry] is still the focus [of Jokowi's work], it should have never been a tool of transactional [politics]," Marthin said.