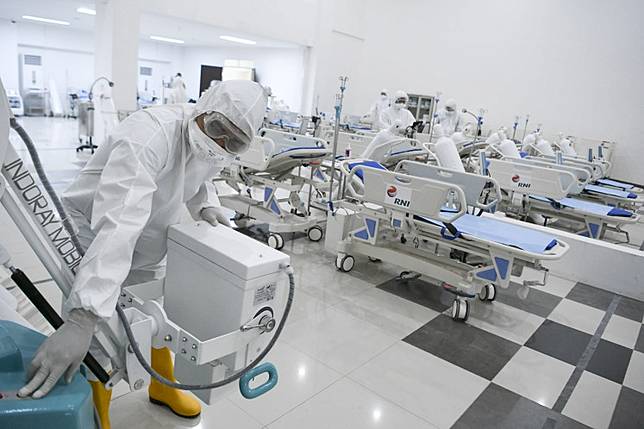 Asymptomatic COVID-19 patients and those with mild to moderate symptoms no longer need to take a follow-up polymerase chain reaction (PCR) test in order to be discharged from quarantine.
A previous protocol had required that patients test negative twice consecutively before being discharged from isolation. The coronavirus that causes COVID-19 is an RNA virus and its genetic material can be detected by a real-time PCR -- widely known as the gold standard test.
But as the country deals with the persistent problem of limited testing capacity, patients often have to wait for days and even weeks for their results to come back – meaning they occupy hospital beds or self-isolate for a long period despite no longer showing symptoms.
This raises not only concerns about prolonged hospital stays, which could lead to hospital overcrowding, but also tests being used up on old rather than new cases.
A World Health Organization situation report on Indonesia in July noted that fewer than 60 percent of tests conducted in the country were to detect new cases, while the remainder were for follow-up tests.
The government, on July 13, released the fifth revision of its protocol on COVID-19 mitigation and control, which phased out retesting requirements for asymptomatic, mild and moderate cases -- prompting hopes of greater testing capacity for new cases.
What are the new criteria for isolation discharge?
The latest protocol stipulates that asymptomatic cases can complete their isolation without taking follow-up PCR tests after 10 days of self-quarantine from the day they took the diagnostic test.
Confirmed cases with mild and moderate symptoms must isolate for 10 days after symptom onset and an additional minimum of three days after they no longer have symptoms of fever or respiratory disorders without retesting. This means that even if they have completed the 10-day isolation but still have symptoms, they will have to extend the isolation until they are symptom-free for another three consecutive days.
For severe and critical cases treated at hospitals, a negative follow-up PCR test result and an additional minimum of three days of having no fever or respiratory disorders are required to complete isolation.
However, the protocol stipulates that in cases where follow-up PCR tests "cannot be performed", patients must be isolated for 10 days and an additional three days of showing no symptoms before hospitals can move them to non-isolation rooms or discharge them.
Upon hospital discharge, however, severe and critical cases must undergo a minimum of seven days of self-isolation to anticipate any symptom onset.
All patients – regardless of the severity of their cases -- who have completed either self-quarantine or hospital isolation, and regular monitoring and clinical evaluation by doctors are declared as having recovered from the disease, the protocol says.
What has prompted these changes?
The protocol follows an updated WHO guideline for releasing patients from isolation -- which was issued on May 27.
The agency's initial recommendation in January was to have two negative results on sequential samples taken at least 24 hours apart. This was based on previous experience with similar coronaviruses, such as those causing SARS and MERS.
With COVID-19 many patients test positive repeatedly for a prolonged period of time, but this does not necessarily mean they are still infectious, according to the WHO brief.
Various studies cited by the agency showed that usually, five to 10 days after infection, a person gradually forms neutralizing antibodies, that are expected to reduce transmission risk.
There are several factors determining virus-transmission risk, including whether it can still replicate.
The ideal way to know whether a virus is still infectious is by running a viral culture, senior clinical pathologist Aryati said.
"If the virus grows, then it is still infectious," she said.
The WHO has cited several viral culture studies showing the correlation between reduced infectivity with the decrease in viral loads and a rise in neutralizing antibodies over time.
It cited, for instance, three studies showing that viruses taken from patients with undisclosed or varying degrees of illness after seven to nine days of symptom onset could not be cultured.
The United States' Centers for Disease Control and Prevention (CDC) has also issued similar recommendations as the WHO, noting that available data indicated that mild to moderate COVID-19 cases remained infectious no longer than 10 days after symptom onset. For severe to critical cases, it is 20 days.
Are there concerns over these changes?
Malisa, 24, has been in self-isolation for more than a month at her house in Malang, East Java, after testing positive in early July, even though her symptoms have long subsided.
Her latest free-of-charge PCR test on July 22 still came back positive, but a community health center (Puskesmas) in charge of monitoring her told her that she would no longer be retested, she said. Instead, she could complete her isolation on Aug. 3 following the new protocol.
But Malisa is unconvinced and has instead scheduled a PCR test that she will pay for this week.
"I'm afraid of still being infectious and putting other people in danger. Maybe it's not severe for me, but what about people with immunity disorders and comorbid conditions? It's better to worry than be sorry," she said.
Erlina Burhan, a senior pulmonologist at Persahabatan Hospital, a COVID-19 referral hospital, who also helped draft the protocol, said that now the priority was to educate the public on the new protocol.
"We need to show the public that there are data, journals and research showing that such patients are no longer infectious, especially given the limited testing capacity that has left us no option but to discharge patients without tests," she said.
She said the new protocol would require strict implementation of isolation and monitoring of patients.