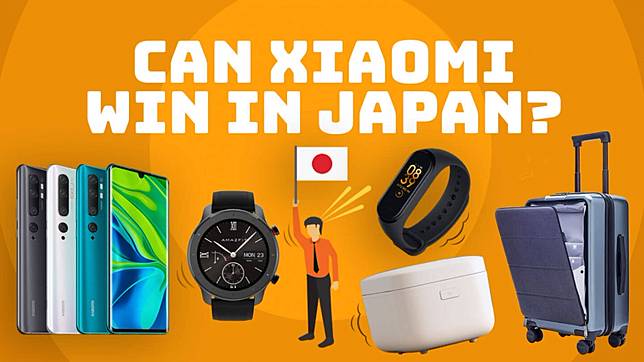 Huawei lost momentum in Japan because of the US-China trade war, and now Xiaomi is giving it a try
Japanese smartphone users are notoriously loyal to domestic brands, but that isn't stopping Xiaomi from throwing its hat in the ring. The Chinese gadget maker officially launched in Japan on Monday, opening another beachhead in its aggressive global push.
Xiaomi is hardly the first Chinese company to enter Japan. Others have tried before with disappointing results. While three of the world's top five smartphone brands are from China, none of them are among the top five in Japan, according to IDC's latest figures.
Instead, Japanese consumers love Apple, which holds an astounding 45% of the market, according to shipments from last quarter. It's trailed by domestic brands Sharp, Fujitsu and Kyocera, with South Korea's Samsung wrapping up the top five.
Chinese brands suffer from a lack of recognition in Japan, Tokyo-based IDC analyst Akira Sugawara said. Apple products such as the iPad and MacBook have become household names, and Samsung has built a reputation around its LCD and OLED screens found in phones and TVs. But big brands that have grown rapidly in China like Oppo and Vivo are relatively unfamiliar to Japanese consumers.
Japan isn't always no-go territory for Chinese brands, though. Last year, Huawei's market share was close to the top five, Sugawara said. But ever since the Trump administration blacklisted the company in May, the Chinese tech giant has been "losing its share drastically."
The ban forced companies to stop selling US-designed phone components and software to Huawei, leaving new Huawei phones without apps such as the Google Play app store, YouTube and Google Maps. Two of Japan's biggest mobile carriers, which sell most of the country's handsets, delayed sales of Huawei's flagship P30 phones.
Huawei's sudden reversal of fortune could be an opportunity for other Chinese brands. Oppo's market share in Japan is still very small, but it looks like it's trying to fill Huawei's gap, Sugawara said. And Xiaomi could be looking to do the same.
While Huawei is caught up in the US-China tech war outside of its home market, Xiaomi has been focusing more of its attention internationally. Last quarter, for the first time ever, it shipped more than two-thirds of its smartphones overseas. In Europe, its smartphone sales jumped a whopping 73% compared with a year ago.
Xiaomi also pointed out that despite its previous absence in the Japanese market, it believes the country has a healthy interest in the brand. When it unveiled its experimental Mi MIX Alpha phone back in September, Japan had the fifth most live streams of the event, Xiaomi said.
With its new entry into Japan, Xiaomi is focusing on more than just phones.
On Monday, Xiaomi said it's bringing its lineup of "ecosystem" products to the country, ranging from power banks and fitness bands to rice cookers and suitcases. Just like with its phones, Xiaomi has sought to shore up its image as a manufacturer of quality products that sell for lower prices than those from competitors. It took care to mention CEO Lei Jun's pledge last year that the company will limit the profit it earns from hardware to 5% (even though some pointed out that Xiaomi's margins were well below that).
Sugawara believes the key for Xiaomi will be cozying up with mobile carriers -- something the company said it's working on.
"The launch of 5G service may be an opportunity for Chinese vendors if they can establish a partnership with major Japanese carriers," Sugawara said.
Copyright (c) 2019. South China Morning Post Publishers Ltd. All rights reserved.